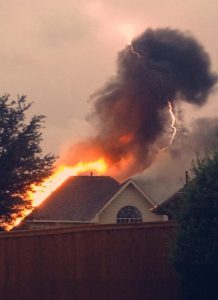 A large blaze ripped through a home in Flower Mound on Friday evening.
No one was injured in the fire at the 2000 block of Heather Ridge Drive in the Bryn Mar Estates neighborhood. The FMFD put out the fire in the second floor of the house.
Neighbor Kris Hanchette said the house got struck by lightning around 7:40 p.m.
"Fire trucks responded within minutes. Both Grapevine and Flower Mound fire departments responded. There were a minimum of seven fire trucks there.
"We are two houses away and we could hear the sound of electrical crackling in our house when the lighting struck."
Neighbors said an older gentleman with no children lives there but did not appear to be home when the blaze broke out.