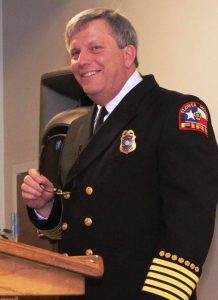 Eric Metzger has served the Flower Mound Fire Department for 28 years, 22 as Fire Chief, but his involvement with firefighters stretches back to his childhood in the San Francisco Bay area.
"One of our neighbors was a Fire Chief in Oakland [Calif.] and there was a fire station down at the end of our block," said Metzger. "It hooked me at an early age. The guys in the station were real involved with all the kids … putting chains back on our bikes if they broke or playing ball with us … and that made a good impression on me growing up."
After his family moved to Oregon and opened a convenience store in the Rogue River area, Metzger's involvement became hands-on with the local volunteer fire department.
"The fire station was right next door to my parent's store," he said. "When an alarm came in, the call would go out to all the volunteers where they worked or lived and I'd drive the fire truck to the sight … uh, even though I was only 15; but that's how things were then."
By age 16, Metzger had been hired as a part-time volunteer and was taking vocational training classes under the Compensation Education Training Act. His first professional position was with the park service and then creating a for-profit fire department in the Rogue River area.
"That department is still in service, but my wife Janice and I had made the decision to move to Midland [Texas] for higher-paying oil jobs being advertised," chuckled Metzger. "Two weeks later, I was working for the fire department."
After six years serving as a firefighter-EMT-resource administrator and Fire Marshall-investigator, he relocated to Flower Mound in 1986. Over the next 28 years Metzger served the town as its population grew from around 4,000 to about 68,000 residents.
The Flower Mound Fire Department was officially created in 1972 by a group of residents concerned with the threat of wildfires. With a population of 1,685 people, the town was predominately rural and vulnerable to fast-moving grass and brush fires.
The first fire station was temporarily located in the present-day All-N1 Food Store strip center at Shiloh and Cross Timbers Road in west Flower Mound. The volunteers worked to build a metal building south of the intersection where the current Station 2 is located. Like the town, the fire department has grown to meet the needs of the population.
"The fire protection was too stretched with only volunteers to cover the calls, so a professional department was needed to meet the town's standards required for the 'protection of life and property' mission," said Metzger. "I've always been a 'research' kind of guy—really enjoy doing that work to improve things—and have seen the areas of safety and fire protection become so much better. In the 1970's, firefighter was the number one most dangerous job in America, but– with the amount of safety features now in place– that's completely dropped. As sad as it is on a personal level, there were only 100 on-duty firefighter deaths nationwide last year."
Today, the fire department has five stations with roughly 100 firefighters, paramedics and administrative staff. A new station is planned for far-western Flower Mound by the intersection of FM 1171 and Hwy 377 to meet the response-time requirements for new commercial and residential developments such as Canyon Falls.
Metzger's last day with the town is June 30, or when a new chief is selected.
"I've made a lot of friends here and I love the community. I'm most proud of our customer service attitude," he said. "After all, it's the men and women in blue that make the difference."
Metzger said he's received numerous phone calls from around the nation about the position, adding that the town staff will have a selection of very qualified applicants.
"Chief Metzger has been indispensable to our Fire Department for many years, especially during periods of rapid growth which often proved challenging to consistently meet the community needs," said Flower Mound Town Manager Jimmy Stathatos. "We wish him all the best and realize we will have large shoes to fill when it comes to finding the next Flower Mound Fire Chief."
In the 2011 Town Citizen Survey, respondents gave the Fire Department a 98-percent approval rating.  Metzger said this high rating is indicative of continued support by the town council, town staff and previous town councils
"It's never been about me, it's always been about our residents and taking care of our fire department to ensure its long-term success," said Metzger. "As for the next phase, my wife Janice and I plan to get back in touch with our rural roots and move to east Texas."
He added that both his father and brother had serious stress-related health problems and he felt the need to put his priorities in the proper order.
"My dad had a stroke at 63 and my brother died at an early age," said Metzger. "I had an epiphany in the hospital after my daughter had a rollover car accident a while back and realized I had my priorities screwed-up. I'm sure my career and the long hours it required took away time with my family and made my wife feel like a single parent for our three kids."
He added that it's time for him to explore other opportunities, decompress and see what else is out there after 37 years in the fire service.
"I'm looking forward to relaxing and being able to look up at night and see all the stars," said Metzger, who currently resides in Copper Canyon. "We'll see how things go in about six months, though; a person can fish for just so long. We'll see how long it takes before Janice tells me to go find something to do."