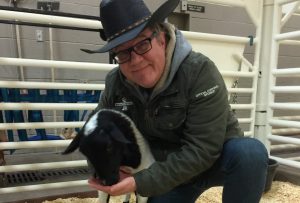 Bob Williams suffered a stroke five years ago and the results are obvious.  Oh, Bob is fine, but as an outcome of the scare, he chose to spend his life only working on projects that he thoroughly loves, and that passion has helped spawn the Argyle-based Ranch Hand Rescue operation.
Situated on the same grounds that are occupied by the heralded American Pet Spa & Resort, run by his longtime friend, Marty Polasko, and Marty's nephew, Bobby Bollas, Ranch Hand Rescue has become a safe haven for animals of all sizes and shapes whose own maladies have left them nowhere else to be put – but down.
Williams, the organization's Executive Director, retired from a long corporate career at Motorola several years ago.  He beams, "I'm excited about getting up in the morning…even if I've been up all night long in the barn with an animal.  Anything that has to do with animals brings a tremendous amount of joy to everyone here."
In February, Williams drove his horse trailer to Brownwood, TX to pick up a critically neglected, albeit, otherwise beautiful horse, named Angel.  Ranch Hand Rescue was the only place that Habitat for Horses could turn to keep the animal alive.
"Angel was a severely neglected horse.  No one else would take her.  She has the right to live out her life as a happy, healthy horse, and be loved."
Unfortunately, the animals' needs are not easily met financially.  Ranch Hand Rescue (www.ranchhandrescue.org), a Texas not-for-profit organization, is eagerly awaiting final approval of its pending IRS 501C3 charitable status to help it bring in more desperately needed funding.  The animals can't wait for the taxman and your donations would be greatly appreciated.
"We keep special needs animals in a safe haven and nurturing environment.  Most people don't want or can't handle animals that need the type of feeding and medical attention that these do.  We will adopt out any animals once they're healthy again, but we also need people to become sponsors of the animals, be it for a year or just a month."
"We're about to come into possession this week of more than a dozen more horses and other farm animals who've been neglected.  It's great for them, but we're really going to need a lot more assistance from anyone who can pitch in to help feed and help us cover the cost of providing medical assistance."
When you first drive onto the property, on the east side of Hwy 377, just north of Liberty Christian School, you are greeted by an assortment of animals, including loud and colorful guinea hens.
"They're like a security alarm.  Even better," Williams adds, "they eat all of the bugs."
Whether sharing pasture sized pens, or in nearby smaller ones, you'll see llamas, alpacas, horses, goats, miniature horses, rabbits, large turtles, geese, and ducks, just to name a few varieties.  Williams pointed out that the pigs, Lenny and Squiggy, have outgrown their pen, but funds are lacking to replace it.
"They're all put away safely for the night, to protect them from any prowling coyotes," Williams assures.
All of this care does not come cheaply.  "Our food bill runs $1,000 per month.  We get great, discounted veterinarian care, provided by Dr. John Bitter, of the Argyle Veterinary Hospital, and Dr. Kellie Herrington, of the Chisholm Oaks Veterinary Hospital, but any financial help is welcome.  It costs about $3,500 a month right now to run the sanctuary.   We really need animal sponsors and donations."
Here's one way to help the animals and have a good time while you're doing it: "We have a pavilion that we use for functions such as kids' birthday parties.  The kids love interacting with all of the animals," said Williams.
If you're looking for a place to have that next party at something other than the usual mass produced birthday party factories, the cost is a very competitive $11.95 per child.
As a matter of fact, the whole animal rescue enterprise was really ignited by the love of kids, in a couple of different ways.
The original idea grew from the aforementioned Polasko.  He envisioned a Disneyland for Dogs concept.  In fact, the American Pet Spa & Resort does boast dog swimming pools, flat screen TVs in the dog pens, and even a ball throwing machine for the pups.
"It spiraled, with more and more animals coming aboard."  Williams expounds, "People would ask us to take animals, maybe save or adopt them out.  Then, one day, a huge guy dropped in.  He looked to be out 6'5", maybe 275 pounds.  'My wife sent me up here…with a check,' he said. 'She brings our grandkids up here all the time to see the animals.  She thought you might be able to use the money.'
"You look kind of familiar, I told him, and he told me that he was Carl Mauck and that he had played 13 years in the NFL."  (Mauck, in fact, played for the Baltimore Colts, Miami Dolphins, San Diego Chargers, and Houston Oilers, before adding another 20 years on as an offensive line coach).
"We really had no legal way to accept money from him at the time for the animals, but were able to use it for one of our closely tied charitable causes, the Cumberland Presbyterian Children's Home, helping to throw our annual Christmas party for the kids who live there.  We give these kids Christmas presents and dress the place up into a real magical wonderland.  Getting to see the animals – any animals – is special for them as most of them are wards of the state and can't have any individual pets."
From the What-Goes-Around-Comes-Around file, "You'll see a donkey here named Ozella.  For 14 years, there were two donkeys at the Cumberland Presbyterian Children's Home, Ozella and Buster Brown.  When Buster Brown died, the kids all voted to send Ozella to live here, as these are kids without families and they didn't want her to be alone.  It just made us melt."
Besides the orphanage, Ranch Hand Rescue is also affiliated with many animal agencies, such as the Flower Mound and North Texas branches of the Humane Society, Metroport in Roanoke, and others.
"TV and movie star, Doris Roberts, (most famous as Raymond's mother in Everyone Loves Raymond), held a fundraiser for our facility back in December.  We had a great turnout.  We want to give back to other charities, including Keep Argyle Beautiful.  The entire town has been a tremendous asset to us.  We really want to increase our links, both figuratively and via the Internet, with all such organizations," Williams adds.
You can either go to the website or call 940-464-0985 to find out how you can help.
Williams reflects, "One of the greatest joys of my life has been establishing this sanctuary.  I hope that it goes on long after I'm gone."