The Denton Independent Order of Odd Fellows (I.O.O.F) Lodge #82 awarded Deputy Preston Dunlap as the Officer of the Year.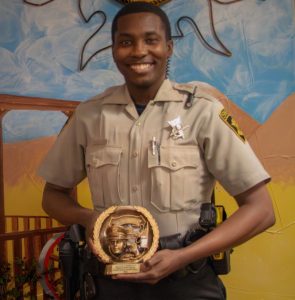 Deputy Dunlap started his law enforcement career at the Denton County Sheriff's Office in the Detention section in August 2017. He applied for the patrol section and started his patrol career in February 2021. Deputy Dunlap is dependable and proudly serves the citizens of Denton County with a positive attitude daily.
On June 18, 2023, Deputy Dunlap was on his way to the Sheriff's Office when he was flagged down by citizens advising him about a major vehicle crash on Duncan Street.
Deputy Dunlap observed the truck to be on fire with the driver trapped inside. Dunlap tried to extinguish the fire with his fire extinguisher, but the fire had grown too large to be put out. The doors to the truck were not able to be opened. Deputy Dunlap used his knife to cut the airbags and, with the assistance of bystanders, was able to remove the unconscious driver through the driver's side window. Deputy Dunlap's actions prevented the driver from burning to death as the fire reached the truck's cab before the fire department arrived to put it out. The driver was transported to the hospital in critical condition gasping for air.
Due to his hard work and dedication, Deputy Dunlap was promoted to Investigator and assigned to the Criminal Investigations division on July 31, 2023.
We're Hiring!

The Denton County Sheriff's Office is hiring! This is a great way to start a career in Law Enforcement with competitive pay, benefits, pay increases for prior experience and education.  If you or anyone you know would like to start a career in Law Enforcement, we encourage you to join our family at DCSO.  You can apply online at dentoncounty.com/sheriff