With volleyball season right around the corner, the schools of southern Denton County are gearing up for what looks to be another very good year.
All seven of the region's teams earned postseason spots in 2022, and 2023 could be even better thanks to some incredibly strong returning talent.
The Flower Mound volleyball team reached the area round of the playoffs in 2022 following a bi-district round victory over McKinney Boyd.
Senior outside hitter Brianna Watson was named to the all-district squad in 2022 and was a big part of the reason why the Lady Jaguars enjoyed the success they had.
"Bri brings leadership, fun, and the will to win," coach Jamie Siegel said. "She makes everyone feel important and part of the family."
Siegel said that Watson has been working on gaining "more consistency, communication on and off the ball, and all around vision," and should be a force for the Lady Jags again this season.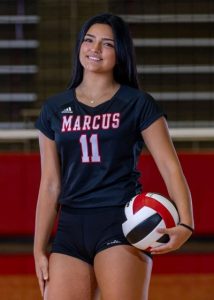 Over at Marcus, the Lady Marauders reached the bi-district round in 2022, but lost four all-district selections from last year's team.
Coach Lindsey Petzold that she is hoping senior libero Isabel Rueda will pick up the reins.
Petzold said that Rueda sets a great example for her younger teammates and has a competitive spirit that the Lady Marauders really need right now.
"Isabel brings a relentless work ethic to our team," Petzold said. "She loves to compete and ultimately wants the team to be successful."
Petzold said that Rueda is "working to sharpen her serve receive skills," this offseason and should be ready to roll this fall.
Up the road at Guyer, the Lady Wildcats defeated Coppell, Arlington Martin and Highland Park in the playoffs last season before coming up short against eventual state champions Keller in the regional semifinals.
Look for libero/defensive specialist Jordan Tynsky to help lead the way for Guyer, which finished last season with a 24-12 overall record and 12-2 mark in district 6-5A competition.
Argyle made a splash in its inaugural 5A season in 2022, defeating Midlothian and Aledo before falling 3-2 to powerhouse Colleyville Heritage in the regional quarterfinals.
First team all-district selection Katherine Holt was one of the stalwarts of that team, and coach Katelyn Johnson said Holt is pretty much everything that a coach wants in a leader.
"Katherine brings so much to our team," Johnson said. "Katherine leads by example; she has a strong work ethic on and off the court, she is positive, competitive and brings great energy into our practices."
The middle blocker/right side hit the ground running following the move up in classification, and Johnson said Holt got to work after the season ended to prepare for 2023.
"Katherine has had a tremendous offseason," Johnson said. "She recently finished her club season by helping her team finish 2nd at the USAV National Tournament. Katherine has focused on developing her skills offensively on the right side, blocking and defense."
The Texas Sportswriters Association All State Honorable Mention has signed to play college volleyball at Stephen F. Austin.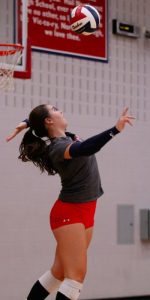 Over in Justin, Northwest High School coach Jennifer Chandler said she is looking for Madison Scrivner to help lead the way for the Lady Texans this season.
Scrivner helped lead Northwest to a district 5-5A championship and opening round playoff victory over FW South Hills.
"Madison provides our team and program tremendous leadership," Chandler said. "She leads by example with a selfless, team-first mentality. She is a huge competitor and is always dedicated to doing what is best for her team."
Scrivner has worked hard this offseason to prepare herself and her teammates for 2023.
"She has continued her dedication to the weight room, has competed hard and encouraged her teammates to be their best daily," Chandler said. "She has focused on setting and increasing connections with her hitters. It has been so much fun to see her leadership thrive within our program this offseason."
In TAPPS, the Coram Deo volleyball team had a 22-18-2 overall record in 2022 and finished 9-3 in district competition.
The Lady Lions will be led by Jordyn Juergens among others in 2023 as they try for a district title after finishing second last season.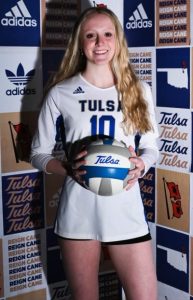 Back in Argyle, the Liberty Christian volleyball team won a state championship in 2022 and Tally Grissom was the district MVP, an all-state selection and named to the state all-tournament team.
Coach Megan DeGroot said she expects Grissom to pick up where she left off last season and help the Lady Warriors try to win a third state championship for the school in the last four years.
"Tally brings a high level competitiveness, drive and pulls out the best in her teammates as a leader," DeGroot said.
The Liberty Christian OH/Libero finished up last season with 255 kills, 250 digs and DeGroot said she believes 2023 could be even better.
"She has been working tremendously on her defense and crafty attacks to help her teammates this fall in school ball," DeGroot said.
Grissom has committed to Tulsa University as a Libero.