Local first responders and power line repair crews are working to pick up after a severe storm system blew through southern Denton County.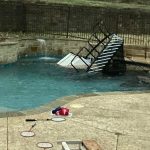 The area escaped major damage from the storm, although winds reportedly reached 80 mph and a gustnado was caught on video in Pecan Square in Northlake. Most of the damage in the area was limited to downed power lines, fences and tree limbs, as well as trampolines and other outdoor items being blown away.
TORNADO? April Jeanette Torres sent us this video from the Pecan Square neighborhood in Roanoke. It was either a brief spin up tornado or a large dust devil. No significant injuries or damage reported. @NWSFortWorth pic.twitter.com/89Iby6ftGk

— DFW Scanner (@DFWscanner) March 3, 2023
"Several power lines and trees down across the district, resulting in some power outages and roads being blocked," Denton County ESD No. 1 Chief Ricky Vaughan said. "Denton County ESD No. 1 responded to 14 calls throughout the evening. Thankfully there were no major damages reported thus far."
Many Argyle Oncor customers are facing an "extended outage" due to a downed power line on Country Club Road, according to Argyle Mayor Bryan Livingston.
Here's a look at some of the peak wind speeds with the damaging line of thunderstorms that moved through North and Central TX last night. Speeds approached 80 mph in several areas. #txwx #dfwwx pic.twitter.com/MTSA55IveV

— NWS Fort Worth (@NWSFortWorth) March 3, 2023
As of 8:30 p.m. Thursday, about 380 homes in west Flower Mound and about 100 more in Lakeside were without power, as well as some traffic signals around town, according to a Flower Mound Fire Department spokesman.
Related: Watch out for scammers after severe weather