The mayors of Flower Mound, Argyle and Northlake met with U.S. Rep. Michael Burgess, Oncor representatives and the U.S. Army Corps of Engineers to discuss a less disruptive route for a proposed transmission line through the area.
During the holidays, Oncor informed residents of several different possible routes for a new transmission line that the company is installing from outside Newark in southern Wise County, to west Flower Mound, southeast of the FM 1171/Hwy 377 interchange. Some of the proposed routes would be disruptive to residential and commercial areas of Argyle and Northlake, and their town leaders quickly began working together to try to discourage the most disruptive routes.
Argyle Mayor Bryan Livingston and Northlake Mayor David Rettig drew up an alternative route that would keep the line farther south than any of the proposed routes. This alternate route, however, briefly cuts through small parts of property managed by the U.S. Army Corps of Engineers, and Oncor wasn't allowed to consider doing that, unless government leaders got involved and asked them to consider it.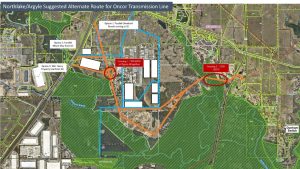 Flower Mound Mayor Derek France said that in Thursday's meeting with Burgess, the alternate route was discussed. Livingston said in a statement that Oncor and the USACE committed "to work together to identify potential crossings of Corps property that could be feasible for inclusion in the southern alternative route that Northlake and Argyle have suggested."
"There are big challenges involved in considering a potential southern alternative driven by environmental requirements and other considerations," Livingston said. "But we took the first step to get both Oncor and the Corps to make a serious assessment of what actions would be required to plan and engineer a transmission corridor that crosses Corps property."
Flower Mound also held a work session on Thursday night to further discuss the transmission line route with Oncor and USACE representatives. An Oncor representative explained that the transmission line is "critical to reliability," and he provided details about the different routes being considered, the expected construction timeline, and the feasibility (or lack thereof) of putting the line underground. He also said that Oncor has received a lot of feedback about this line, and it will consider that feedback as it continues to evaluate possible routes. France encouraged Oncor to reduce the number of possible routes, as quickly as possible.
During the work session, an Oncor representative also stated plainly that no routes in Argyle would "require the condemnation of a home," and no routes go where a home is within the easement area. Those statements conflict with other information Oncor has provided Argyle with, so the town is requesting written confirmation from Oncor that the routes would not result in the loss of homes in Argyle or the town's extraterritorial jurisdiction.
Click here for more information about the proposed transmission line and the local leaders' work to propose a preferred alternative.