Highland Village is getting cheesier this week.
I Heart Mac & Cheese, a fast-casual restaurant chain specializing in macaroni & cheese bowls and grilled cheese sandwiches, will open at 11 a.m. Wednesday at 2250 Justin Road, Suite 112, in the Highland Village Town Center. The first 10 guests will receive one free mac & cheese bowl a week for a year, according to a company news release.
I Heart Mac & Cheese is unique in the restaurant industry with no fryers, grease trap systems or hood systems. Customers can build their own made-to-order mac & cheese bowls, with a wide variety of chef-inspired proteins, sauces and other ingredients. The restaurant will also serve up a variety of health-conscious bases, including quinoa, broccoli, cauliflower, gluten-free pasta, plant-based protein and dairy-free alternatives.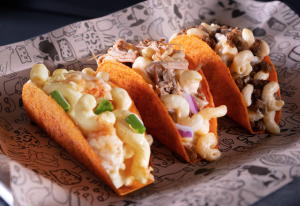 The Highland Village location will feature signature chef-driven combinations like an over the top tacoroni — a cheese shell taco stuffed with meat and mac & cheese — baked chicken parmesan, baked meatball parmesan, the cuban, pepperoni pizza, lobster & white truffle mac, and more. The signature dish is called The Best of Both Worlds, a baked mac & cheese sandwich with slow-cooked short rib, white cheddar cheese and American cheese finished off with barbecue sauce. Food will be available through delivery services including Uber Eats, GrubHub and DoorDash. Catering operations will also be available, and the location will have themed weekly programming, with details to be announced  soon, including Kids Eat Free Monday nights.
Click here for more information.