United Way of Denton County recently announced that the 2021 Dr. Bettye Myers Humanitarian Award will recognize the impact of two prominent figures in the fight against homelessness in Denton County – former Denton Mayor Chris Watts and Denton County Judge Andy Eads. The award will be presented at the organization's ninth annual UNITED Tribute gala celebration on May 8, according to a UWDC news release.
As the nation and the world grappled with the COVID-19 pandemic and its economic fallout, the leadership and dedication of the Honorable Andy Eads limited the devastation across Denton County by infusing federal dollars to buoy businesses, nonprofits and residents. With the Denton County Commissioners, Eads created Denton County OPEN Business grants to support local businesses. Eads and the Court partnered with United Way of Denton County for two federally funded programs in 2020: Denton County CARES that targeted overwhelmed nonprofits, and Eviction Prevention that avoided eviction for thousands of Denton County households. Denton County CARES granted over $4.2 million to 54 Denton County nonprofits to expand capacity and address COVID-related challenges as nonprofits experienced a 300% surge in need from the community. The COVID-19 Eviction Prevention helped over 2,271 households impacted by income loss due to COVID-19 with rent/mortgage/hotel assistance, preventing a 597% increase in Denton County's homeless population.
Judge Eads' leadership to accelerate access to COVID-19 vaccinations by securing a landmark partnership with Texas Motor Speedway enabled routine daily mega mobile clinics that has served consistently over 10,000 doses of vaccine a day. It has been a model not only in north Texas but across the country.
"Dr. Myers left a legacy that we all cherish dearly. I am truly humbled in receiving this monumental award," Eads said. "Our Denton County team worked closely with the United Way of Denton County to ensure all of the needs of Denton County residents were met during this pandemic. We are fortunate to have such a great partnership."
Eads has served on the Denton County Commissioners Court since 2007. The native Texan and fifth generation resident of Denton County was elected County Judge in 2018.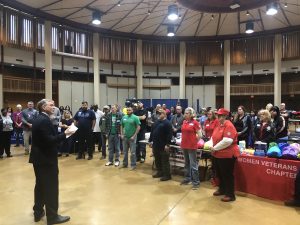 The success and effectiveness of the United Way of Denton County COVID-19 Eviction Prevention program is due in large part to the framework created under the leadership of former Denton Mayor Chris Watts, according to the UWDC news release. Shortly after his election as mayor in 2014, Watts created the Denton Mayor's Task Force on Homelessness, tasked with designing a coordinated, city-wide plan to address homelessness. The group soon recognized, however, that success would be possible only if the initiative expanded beyond city borders and encompassed all of Denton County. Acting on this recommendation, the City of Denton and United Way of Denton County joined forces to underwrite the Denton County Homelessness Leadership Team in 2016, of which Watts served as inaugural chair.
Under the direction of this county-wide leadership team, United Way of Denton County has built a housing crisis response network where homelessness/housing nonprofits and agencies working together to find client-centered solutions to make homelessness in Denton County rare, brief, and nonrecurring for every individual and family.
This collaborative effort to address homelessness in Denton County is working. As of February 2021, 261 households are experiencing homelessness compared to 504 households in 2019. Currently, 12 families are moved from homelessness to housed each month.
A graduate of Denton High School, the University of North Texas, and Texas Wesleyan University School of Law, Watts served mayor of the City of Denton from 2014 to 2020.
"The dedicated, hand-in-glove support of the Denton County Homelessness Leadership Team by United Way of Denton County has evolved into a successful, broad-based initiative far beyond that of my original conception, which was rooted in a childhood experience," Watts said. "I am deeply grateful to United Way for enthusiastically stepping up early-on, then continuing as the bedrock for a network of organizations and individuals that work tirelessly together to make homelessness a distant memory in our community.
"Bettye Myers fulfilled the very embodiment of unparalled service to this community, and I am both humbled United Way of Denton County believes I am worthy of this coveted award that bears her name and honored to join the esteemed roster of prior recipients."
Named after the Denton County icon whose community involvement was unparalleled, the Dr. Bettye Myers Humanitarian Award was established by the United Way of Denton County board of directors in 2014 to recognize the highest level of community leadership and philanthropy with time and resources. Recipients of this prestigious award are purposeful in promoting human welfare and have demonstrated active engagement in the community. Previous Dr. Bettye Myers Humanitarian awardees include its namesake, Dr. Bettye Myers, Janet and Joe Mulroy, Stan Morton, Debbie and Mark Merki, Bill Patterson, the Honorable Bobbie Mitchell, and Ellen M. Painter.
"The contributions of these two leaders, while outstanding on their own, together created unparalleled synergies for Denton County," said Gary Henderson, President and CEO of United Way of Denton County. "As mayor, Chris' leadership led to the formation of a county-wide housing crisis response system that created coordinated processes, quality metrics, and a vision for moving people from instability to security in housing. Judge Eads' leadership during the biggest crisis of our lifetime infused that same system with the resources needed to prevent a pandemic-driven surge of homelessness in Denton County that would have crippled our economy for decades. Their collective impact as leaders in our community cannot be overstated."
The ninth annual UNITED Tribute Gala featuring "Dancing with Our Stars" on May 8 will have a dual-audience: live at the Embassy Suites by Hilton Denton Convention Center and live-streamed for online viewing with a virtual voucher. This event pays tribute to the companies, employees, and community leaders who are part of the tapestry of United Way of Denton County. Event sponsorships, tables and virtual vouchers can be reserved at www.unitedwaydenton.org/United-TRIBUTE or by calling Kristin Jones at United Way of Denton County at 940-566-5851 ext. 102.