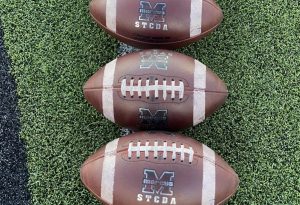 Marcus 38, Coppell 24
The Marauders continued their winning ways on Friday night, defeating Coppell by a score of 38-24.
It was Coppell that jumped out to a 3-0 lead, but Marcus (6-0, 3-0) answered with a 95-yard drive on the ensuing series that culminated in a 34-yard touchdown pass to Tyler Schott from Garrett Nussmeier.
Nussmeier then hooked up with J. Michael Sturdivan on an 18-yard pass to make it 14-3, and John Wegendt kicked a 19-yard field goal to make it 17-3 Marcus at the half.
Marcus extended its lead to 21 on a 7-yard pass from Nussmeier to Dallas Dudley, but Coppell answered with a touchdown of its own to make it 24-10 heading into the fourth quarter.
Marcus took a 31-10 lead on a 9-yard pass from Nussmeier to Connor Vaughn, and following a Coppell touchdown, Gabe Espinoza scored on a 2-yard run to make it 38-17 Marauders with 6:10 left in the game.
Nussmeier finished the game with 433 yards passing and 4 touchdowns.
Marcus will head to Plano to face Plano West at 7 p.m. on Nov. 13.
What 6-0 feels like . . . #STCDA #ELITE #UNCOMMON #ProtectTheM #txhsfb pic.twitter.com/dB9nSvNZA9

— Marcus Football (@MarcusFootball) November 7, 2020
Lewisville 51, Flower Mound 21
The Jaguars struggles continued on Friday night, as they fell to Lewisville by a score of 51-21.
After getting down 7-0 in the first quarter, the Jaguars (2-4, 0-3) recovered a Lewisville fumble and drove 35 yards, scoring on a 1-yard run from Peyton Porter.
The Farmers scored again to make it 21-7 and tacked on 16 more points to lead 37-7 at halftime.
In the third quarter, Porter scored on another 1-yard run to make it 37-14 Lewisville.
The Farmers scored twice more to lead by 37 points, before Nick Evers hit Walker Mulkey on a 13-yard touchdown pass to make it 51-21 early in the fourth.
Flower Mound will travel to Plano at 7 p.m. on Nov. 13 to take on Plano East at Kimbrough Stadium.
Guyer 49, Braswell 7
In the first matchup between Guyer and Braswell, Guyer emerged victorious on Friday night.
Following a scoreless first quarter, Deuce Harmon returned an interception 35-yards for a touchdown to make it 7-0 Wildcats early in the second quarter.
Three minutes later, Guyer (5-1, 3-0) drove 76 yards and scored on a 1-yard run from quarterback Eli Stowers to make it 14-0, which is where it remained until halftime.
In the third quarter, Guyer got its run game going, scoring on a 3-yard run from Tiyon Alridge, and a 25-yard run from Stowers.
The Guyer quarterback then connected with Bryson Riggs on a 59-yard touchdown pass to make it 35-0 Guyer at the end of the third quarter.
Jackson Arnold broke a 54-yard run for the Wildcats to make it 42-0, and Ryan Fritcher scored on a 2-yard run to give Guyer a 49-0 lead with 5:22 to play in the game.
Guyer will travel to Allen at 7 p.m. on Nov. 13 to take on the Eagles.
Argyle 28, Paris 7
Argyle clinched it's 12th consecutive district championship on Friday night with a 28-7 victory over Paris.
CJ Rogers connected with Cole Kirkpatrick on a 28-yard touchdown pass to get things started for the Eagles, and Argyle (10-0, 6-0) led 7-0 at the end of one.
In the second quarter, Rogers hit Cash Walker on a 14-yard touchdown pass, and Ethan Gonzalez had a 25-yard fumble return for a touchdown, as Argyle led 21-7 at halftime.
Rogers and Kirkpatrick hooked up on an 18-yard pass in the third quarter
This marks the 11th win out of 11 matchups between the two teams. Argyle's regular season wining streak is now at 57 games.
Argyle (10-0, 6-0) will open up the postseason against North Dallas next at home on Thursday, Nov. 12 at 7 p.m.