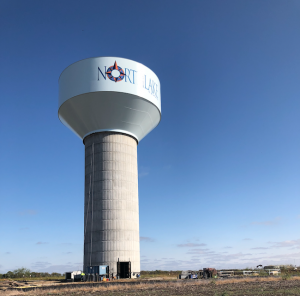 The town of Northlake raised the bowl of its first water tower on Saturday, bringing the town one step closer to its goal of a self-sustaining water system.
Currently, Northlake's drinking water is obtained from Upper Trinity Regional Water District, the city of Fort Worth's surface water system and some town-owned wells. The new 1.25-million-gallon water tower is located just north of Old Justin Road near the Harvest subdivision, and it initiates the second phase of a two-source system outlined by the town's master plan to accommodate growth within its service area, which includes Northlake town limits and ETJ areas.
"This tower accomplishes in part the Northlake Town Council strategic goal to systematically invest in infrastructure to maintain a safe and reliable water system," said Northlake Town Administrator Drew Corn. "The tower funding is self-sustaining through charges to water customers."
With the bowl raised and welded into place, Landmark Structures will begin work on the interior of the tower and the related water lines, according to a Northlake news release. The town anticipates construction to be complete in summer of 2021.