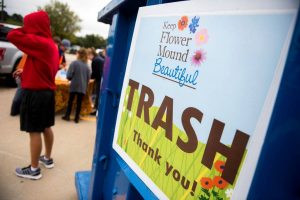 The annual Keep Flower Mound Beautiful Trash-Off will look a little different this year because of the coronavirus pandemic.
Instead of a large event gathering for the community clean-up, this year it will take place over the course of three days, Sept. 25-27, at pre-assigned locations to ensure volunteers are spread out, according to a news release from the town of Flower Mound. Pre-registration is required and locations will be pre-assigned. Giveaways and prizes will be awarded for the most trash, recyclables and oddest item collected. All ages are welcome to participate. Supplies for the community clean-up can be picked up at Flower Mound Town Hall, 2121 Cross Timbers Road, beginning Sept. 21 from 9 a.m. to 5 p.m.
The Recycling Drop Off portion of the annual event will take place on Sept. 26 from 10 a.m. to 1 p.m. in the Flower Mound High School parking lot, 3411 Peters Colony Road. Attendees can drop off their electronics to be recycled, have their documents shredded with Shred-It, and Recycle2Support (benefiting CCA) will collect gen­tly-used houseware items, textile, and clothing donations. In addition, pens, mechanical pencils, markers, plastic bags and film, razors, blades, and wire hangers will also be collected.
To register and find additional information, visit www.kfmb.org.