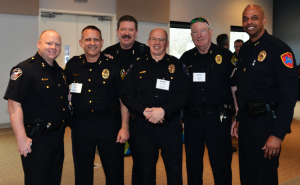 National Law Enforcement Appreciation Day is being celebrated Thursday locally and around the country, as citizens publicly #BacktheBlue.
On Jan. 9 of each year, residents are called to show their support of law enforcement, according to the group Concerns of Police Survivors.
Today and everyday, thank you to the dedicated men and women of the @FlowerMoundPD who serve and protect us tirelessly. 💙 We are so grateful for everything you do to keep Flower Mound a safe community. #LawEnforcementAppreciationDay pic.twitter.com/WGguOm2X14

— Town of Flower Mound (@flower_mound) January 9, 2020
Citizens can show their support in a number of ways, according to the COPS group:
Wear blue clothing in support of law enforcement.
Send a card of support to your local police department or state agency.
Share a story about a positive law enforcement experience on social media.
Ask children in your community to write letters in support of law enforcement.
Participate in Project Blue Light – Proudly display your blue light in support of law enforcement.
Organize an event or a rally in support of your law enforcement officers.
Advertise your support through local media outlets/billboards.
Post the public service announcement supplied by C.O.P.S. to your organization's webpage or social media pages.
Coordinate and/or participate in a Blue Blood Drive.
Most importantly, if you see a police officer, thank a police officer.