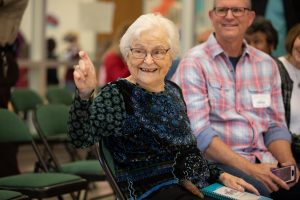 Dorothy Adkins, a longtime Denton ISD teacher and board member, celebrated her 100th birthday on Thursday at the school named for her, Adkins Elementary in Lantana.
Students and staff at Adkins Elementary commemorated Adkins' birthday with student performances of their Winter Music Program and the Adkins Aviator choir, according to a news release from Denton ISD. There was also a display of artifacts used in the daily lives of those living in the early 1900s.
Adkins was instrumental in the desegregation of Denton schools in the 1960s, breaking down racial barriers in the community, according to the district. She is still actively involved at the campus that bears her name, and has volunteered there many times with students and staff.
"Over the years, students at Adkins Elementary have had many opportunities to see Dorothy Adkins in their school and to learn about her as an activist, as a teacher, and as a compassionate, caring person," said Barbara Burns, president of the Denton ISD Board of Trustees. "Today they were able to see first-hand why it was fitting to name the school for someone who continues to serve others."
Adkins Elementary has been open since August 2014.