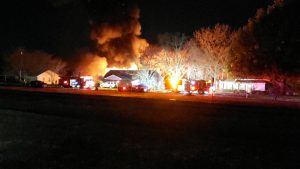 Firefighters responded to a major structure fire in Argyle and a garage fire in Flower Mound on Wednesday evening.
In Argyle, a workshop on Front Street was fully engulfed in flames around 5:50 p.m., and the flames quickly spread to a nearby house. The enormous orange blaze was easily visible from Hwy 377, and people could be seen running to help potential victims before the firefighters arrived. Argyle Fire Chief Mac Hohenberger said both the shop and the house are total losses, and there were some small explosions from ammunition. No one was injured.
In Flower Mound, crews extinguished a garage fire in the 3700 block of Lavorton Place. Brandon Barth, a spokesman for the Flower Mound Fire Department, said firefighters were able to keep it from spreading into the house, which has some smoke damage but is expected to be repairable. The four people inside were able to evacuate safely, but there is a missing cat, Barth said. The cause of the fire had not been determined as of 6:30 p.m. Wednesday.
Argyle firefighters arriving at a home fully involved on West Front Street. pic.twitter.com/2VAoSQTXBL

— CrossTimbersGazette (@ctgdentoncounty) November 28, 2019
Crews have extinguished a one alarm garage fire in the 3700 block of Lavorton Place. No injuries and crews are still on scene extinguishing hot spots. pic.twitter.com/pCFDdeuJQZ

— FlowerMoundFD (@FlowerMoundFD) November 28, 2019
From the Argyle Fire Department: "On November 27th 2019 at 5:49 firefighters were dispatched to a residential structure fire in the area of Old Justin & Front Street. The initial response included 3 Argyle engines, 1 argyle Ambulance and 2 Argyle Chiefs. Based upon information dispatch was receiving the fire was quickly upgraded to a "working" structure fire response. The working structure fire response added 3 additional engines, 1 ladder truck, 1 ALS medic unit and 1 additional chief officer. The responding mutual aid included 2 engines, 1 ladder truck and 1 battalion chief from Denton Fire Department & 1 engine from Double Oak Fire Department. Flower Mound Fire Department is part of the automatic aid response for this area. They were unable to respond at the time do to them having their own working structure fire in their city. This added an extra engine from the City of Denton. The first engine was on seen within 6 minutes from the initial dispatch and upon their arrival encountered heavy fire conditions. Crews were able to get the fire under control within 45 minutes. There were no civilian or firefighter injuries. Response areas have predetermined response plans that will include what units/agencies will respond. Often times on a structure fire response this includes the use of "automatic aid". Automatic aid is set up so that dispatch will know exactly who to call based on the response type. When a unit is not available do to having their own calls/incidents working then dispatch is able to continue down the list until they find the next available unit.
Responding units included:
            E511, E513, E514, M514– Argyle
            E6, E7, M7, T1, B1 – Denton
            E551 – Double Oak
            Denton County Fire Marshalls Office 705
            Denton County Rehab 701″