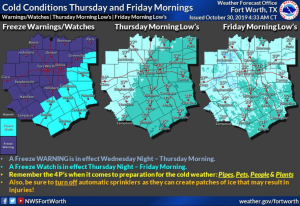 The season's first episode of sub-freezing temperatures is expected Wednesday night through Thursday morning.
The National Weather Service has issued a Freeze Warning for North Texas from 1-10 a.m. Thursday with temperatures expected to reach between 27-32 degrees overnight as a cold front moves through the area. Frost and freezing temperatures may kill crops and sensitive vegetation, and could damage unprotected outdoor plumbing. Automatic sprinkler systems should be turned off to avoid creating ice patches.
The cold front will make for a chilly night of trick-or-treating on Thursday night. The forecast temperature at 7 p.m. Thursday in DFW is 46 degrees, and 42 degrees at 9 p.m. A Freeze Watch is in effect for Thursday night through Friday morning.