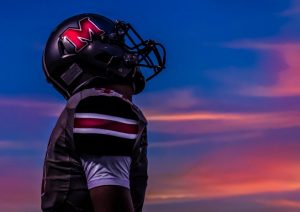 Marcus 34, Flower Mound 31
It took some last minute heroics, but Marcus remained atop the district standings with a three point victory over Flower Mound on Friday night in the 20th annual Mound Showdown.
Marcus drew first blood on a 29-yard pass from Garrett Nussmeier to J. Michael Sturdivant.
Flower Mound tied it up on a 4-yard pass from Blake Short to Parker Clark, but Marcus made it 14-7 on an 8-yard run from Ty'Son Edwards.
In the second quarter, Sturdivant caught a 21-yard pass and Collin Sutherland scored on a 33-yard pass from Nussmeier, as Marcus led 27-7 in the second quarter.
Flower Mound came roaring back, however, as Brent Auburn kicked a 21-yard field goal in the game and Pierce Hudgens scored on a 4-yard run.
Stone Eby scored on a 4-yard pass from Short, and Marcus led 27-24 after three.
Flower Mound gained the lead in the fourth quarter on a 12-yard run from Pierce Hudgens.
Tyler Gainey scored on a 1-yard run with 54 seconds remaining to seal the win for the Marauders.
Marcus (7-1, 5-0) will host Irving MacArthur at 7:30 p.m. on Nov. 1  at 7:30 p.m.
Flower Mound (5-3, 3-2) will host Coppell at 7 p.m. on Nov. 1 at 7 p.m.
"Used to have a lot . . . but we got more now." @MarcusFootball reclaims the Mound!
🏆🏆🏆🏆🏆🏆🏆🏆🏆🏆🏆#STCDA #ELITE #txhsfb #MoundShowdown pic.twitter.com/KOfh9HlTtD

— Marcus Football (@MarcusFootball) October 26, 2019
Guyer 56, Northwest Eaton 20
The Wildcats led 42-17 at halftime and never looked back, defeating Eaton soundly at Northwest ISD Stadium.
Guyer (7-1, 4-1) scored on runs of 1 and 13 yards in the first quarter of Friday night's game.
Kaedric Cobbs scored on runs of 9-yards, 45 yards and 1 yard in the second quarter and Seth Meador caught a 59-yard pass from Eli Stowers to make it 42-17 heading into the halftime.
Stowers scored on a 37-yard run and Travis Romar scored on a 50-yard pass from Stowers.
Cobbs finished with 144 yards rushing and five touchdowns.
Guyer will play at 7 p.m. on Nov. 1 at Byron Nelson.
Argyle 70, Melissa 48
The Eagles remain unbeaten on the season, roaring past district rival Melissa on Friday night.
Argyle jumped out to a 28-0 first quarter lead on three touchdown runs from Luke Farris (2,2, 24) and a 12-yard touchdown run from Bo Hogeboom to Grant Chaney.
Argyle (8-0, 40) scored on a 9-yard pass from Hogeboom to Cole Kilpatrick and a run from Luke Farris and 2-yard pass completion to Jasper Lotts by Hogeboom as Argyle led 49-21 at the half.
Farris scored on a 1-yard pass from Hogeboom, and Lott caught a 9-yard pass from Hogeboom to start the third quarter.
Braiden Rexroat returned an interception 19-yards for a score.
Argyle will play at 7 p.m. on Nov. 1 at Anna.
Trinity Christian 48, Coram Deo 21
Coram Deo came up short on Friday night, losing to the Trinity Christian by a score of 48-21.
The Lions were down 48-13 in the fourth quarter when Peyton Inderlied completed a 4-yard touchdown pass to Ryan Henderson.
Inderlied completed a 2-yard pass to Andrew Mainord for the two-point conversion to make it 48-21.
Coram Deo could not come back, however, moving to 3-6 overall and 2-2 in district.
The Lions will play at 7 p.m. on Nov. 1 at Trinity Christian in Willow Park.
All Saints 45, Liberty Christian 7
The Warriors could not get much going on Friday night offensively against Fort Worth All Saints.
Collin Gamble found the endzone on a 25-yard touchdown pass from Daniel Greek in the third quarter, but that was the extent of Liberty's scoring.
Liberty (2-7, 0-3) will play at Trinity-Addison Christian at 7 p.m. on Nov. 1.
Irving Nimitz 7, Lewisville 56
Leading rushers for @LHSFball:
Damien Martinez with 7 carries for 82-yards
Omri Lawrence with 8 carries for 57-yards@taylengreen17 with 10 carries for 66-yards. Green also completed 7 passes for 159-yards#TXHSFB #TexasHSFootball

— 4th & 1 Sports Blog (@4and1sportsblog) October 26, 2019