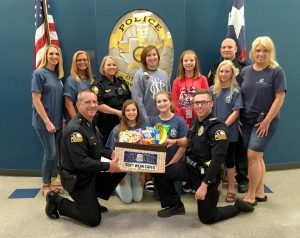 The Texas Lantana Chapter of National Charity League, the nation's premier mother-daughter volunteer organization, is accepting applications from women with daughters currently in 6th through 9th grade as part of its annual membership drive.
The Texas Lantana Chapter is comprised of nearly 200 members who reside in Argyle, Krum, Lantana or Ponder, or attend Liberty Christian School. Texas Lantana Chapter mother-daughter teams volunteered about 3,500 philanthropy hours in the 2018-2019 year for 10 philanthropic organizations in the community, according to a news release, including Denton County Friends of the Family, Community Storehouse, Sadie Keller Foundation, Serve Denton and more.
"We are excited for the opportunity to welcome new mothers and daughters into our Chapter as we continue to create life-long philanthropists who graciously serve the community," said Abby Ray, Texas Lantana Chapter President.
Applications for membership are only accepted during the membership drive, which began Oct. 1 and runs through Jan. 15, 2020. Interested mothers are encouraged to attend a prospective member meeting. To receive an invitation, email [email protected] Click here for more information.