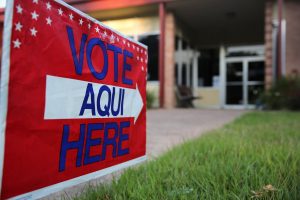 Early voting has begun for the Nov. 5 constitutional amendment elections.
Flower Mound voters will decide to keep or kill the Street Maintenance Sales and Use Tax. The tax — the money from which is used exclusively on street projects — has been authorized many times periodically by the voters, and it again needs reauthorization from the voters. The tax is a rate of one-fourth of one percent.
Voters can also weigh in on 10 state propositions.
Early voting runs from Monday through Nov. 1. It can be done by mail and absentee ballot, or in person at 23 locations throughout Denton County. Residents can vote early at any of these locations. In southern Denton County, the early voting locations are:
Denton County Southwest Courthouse, 6200 Canyon Falls Drive, Flower Mound
Flower Mound Community Activity Center, 1200 Gerault Road
Highland Village Municipal Complex, 1000 Highland Village Road
On Election Day, Nov. 5, voters must go to their precinct location.