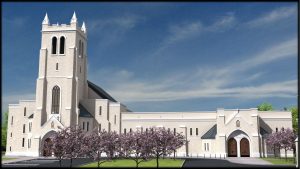 St. Philip the Apostle Catholic Church is moving from Lewisville to west Flower Mound.
The church, which has been located at 1897 West Main St. since 1977, received unanimous approval from Flower Mound Town Council last week for its proposed site plan at the southwest corner of FM 1171 and Flower Mound Road.
The church will break ground on the new 16,000-square-foot location on Nov. 3. The plan includes a second phase of construction to add parking and extend the church building, and a future phase that would add a Sunday School building and a rectory.