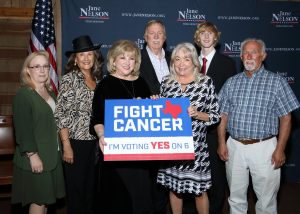 Texas State Senator Jane Nelson, R-Flower Mound, received last week the Advocacy in Action award from the American Cancer Society Cancer Action Network of Texas, recognizing her dedication to ensuring continued investment in the Cancer Prevention and Research Institute of Texas.
"I am honored to receive this award from the American Cancer Society Cancer Action Network," Nelson said. "As a former volunteer for this organization, I am proud of the life-saving advocacy and support it provides to individuals and families impacted by cancer."
As Chairman of the Texas Senate Finance Committee, Nelson championed legislation during the 2019 Texas State Legislature to allow CPRIT, the nation's second largest funder of cancer research, to award new grants beyond 2023 in the event of additional bonds allotted to the agency, according to a news release from the ACS CAN. On Nov. 5, voters have the opportunity to provide CPRIT with an additional $3 billion in bonds to ensure Texas remains a leader in the fight against cancer.
"Sen. Nelson is a longtime supporter of cancer research, helping to establish CPRIT and its lifesaving programs," said ACS CAN Texas Government Relations Director Marina Hench. "On behalf of ACS CAN Texas' volunteers and the millions of Texans served by CPRIT-funded services, I thank her for continuing to champion the importance of cancer research."
Several ACS CAN volunteers presented the award Oct. 10 during Nelson's Annual 40th Birthday Party.