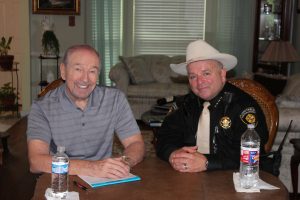 Tim Burch is the elected Constable in Precinct 4. Constables are constitutionally authorized peace officers elected by precinct. There are six (6) Constables in Denton County. They perform patrol functions and make criminal investigations. The main duty of most constables is to serve as officer of the Justice of the Peace Courts. In that capacity, Constables serve subpoenas and other papers. First elected in 2014, and reelected in 2016, Burch is running for his 3rd term in the March 2020 Republican primary.
Born in Lynchburg, Virginia, Burch's family moved to Euless, Texas before his first birthday. He finished his education there before moving to Roanoke and then settling in Double Oak. Constable Burch has an extensive background in sports; including minor league baseball, weight-lifting and bull-riding. Burch's law-enforcement career began with a five-year stint as a police officer in North Richland Hills. In 2001, he was hired as a Deputy, working under veteran Constable John Hatzenbuhler. In 2012, when Hatzenbuhler decided to retire, Burch ran for and was elected to his current position.
Constables have Peace Officer status and similar duties, but mainly handle civil, rather than criminal, matters. Their job includes providing bailiffs for the courts within their respective precincts and serving processes issued from any court. Statutorily, they are responsible to serve about 20 types of documents included in the civil process; from eviction notices to traffic warrants and judgment decrees, including seizing, impounding and selling of real property as directed by law. Some constables limit themselves to the service of those legal documents, but others provide patrol and investigative services too.
Burch's precinct covers almost 370 square miles and the population therein continues to grow rapidly. The Denton County Commissioner's Court decides on the budget requirements for the Constable's office, as they do on every other county office. During the interview, Burch talks about the duties of his position, the budgetary requirements, the size of his department, including staff and his reelection race, among other topics. The following short bio was sent by the Constable:
"Constable Tim Burch currently serves as the Precinct 4 Denton County Constable and is currently seeking election to his third term in office in the March primary. Constable Burch is a graduate of Trinity High School in Euless Texas.  He is a degreed professional having attended the University of Texas in Arlington and Tarrant County College. He is also a graduate of the Command Leadership College of Class 10 at Sam Houston State University.
"He currently holds a Masters Peace Officer License with a total of 20 years and 7 months of Law Enforcement experience having accumulated 3354 hours of continued education within the Law Enforcement profession. He and his wife, Candace Simon Burch reside in Double Oak, Texas.  Constable Burch has a son, Brandon Cody Burch, who is the Head Baseball coach and Assistant Football coach at ARP High School in East Texas"
Constable Burch has a total of 15 years with the Precinct 4 Constable's Office having served as the Elected Official  for 8 years (2 terms) and prior to that, served as the Chief Deputy within said office.