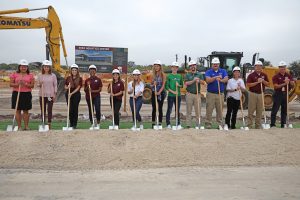 Northwest ISD welcomed community members and representatives from high school swim teams to celebrate a groundbreaking ceremony on Wednesday for the district's new aquatics center, expected to open in late 2020 or early 2021.
When the center opens, it will include a competition pool and practice pool as well as a sports-performance training center and rehab facility, according to a news release from the district. The latter facility is being staffed by Texas Health through a partnership with Northwest ISD, which will allow district medical students to earn clinical rounds and show health professionals.
The facility will be located near several schools and the Northwest ISD offices along Hwy 114, west of I-35W. The aquatics center's estimated cost is about $36.5 million.