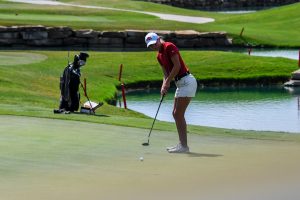 By John Burkhpolder
Two sun-filled days, Tuesday, September 24 and Wednesday, September 25, Robson Ranch Wildhorse Golf Club's 6,178 yard, Par 72 Golf Course welcomed 13 Division II women's collegiate teams competing in the 11th annual DBU Collegiate Classic Golf Tournament.
Tuesday was a marathon outing for the competitors as they played two full rounds of 18, topped off by University of Missouri St Louis' Emma Thorngren's opening round, 7 under par 65. At the end of the long day, seven women finished under par 144, with outstanding total scores ranging from 135 to 143. Obviously, these women play golf with the best in the women's collegiate world!
The team competition was won by host school Dallas Baptist University with a total score of 887. Three strokes back in second place was West Texas A&M, with Missouri St Louis in third, just a stoke further back. The remaining schools, in order of finish were: Midwestern State, Texas A&M Commerce, Arkansas Tech, Oklahoma Christian U, St Edwards U, U of North Georgia, St Mary's TX, Texas Tyler, East Texas Baptist U and Lubbock Christian U.
In total, there were 14 rounds below par, 11 rounds at par and 179 rounds above par. The average scores for the three rounds were 78.1, 78.3 and 78.9.