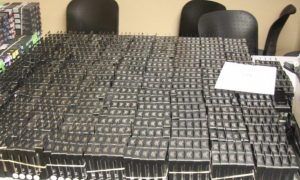 The Denton County Sheriff's Office is seizing more THC products in recent days, including an arrest of one man who had nearly 5,000 THC vape cartridges in his vehicle.
At 10 a.m. on Sept. 24, deputies made a traffic stop in the 12000 block of Hwy 380, according to a news release from the sheriff's office. The driver — identified as 33-year-old Jaime Rivera-Silva of Tampa, Florida — told the deputies that he was traveling from Las Vegas to Florida. A search of the vehicle he was driving revealed 4,980 THC vape cartridges, 15 pounds of marijuana and 1.2 pounds of THC wax.
THC is the active chemical in marijuana that gives the high sensation. It can be removed from marijuana and consumed in other ways. In Texas, it is a controlled substance.
Rivera-Silva was arrested on charges of possession of marijuana and possession of a controlled substance. He remains in Denton County Jail on Thursday in lieu of $35,000 bail.
Denton County deputies have seen an increase in these THC cartridges and other THC products, according to the news release. Many of them can be tied directly to California and Colorado, where marijuana has been legalized in varying degrees.