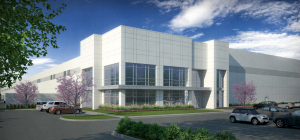 Schluter-Systems, a tile and stone installation company, is launching its first Texas site at AllianceTexas  in Northlake.
Located at Alliance Northport 1, the 500,000-square-foot regional distribution center will enhance Schluter-Systems' capability to serve central and southern states with its expansive product line and provide a convenient training location, according to a Hillwood news release.
The facility is scheduled for completion in the first quarter of 2020 and is expected to employ 300 associates.
"Schluter-Systems is the largest supplier of tile installation systems around the world, and Hillwood is proud to welcome them to AllianceTexas after a comprehensive search of the entire Dallas-Fort Worth market to find the best location for their new facility," said Tony Creme, senior vice president of Hillwood. "They are the latest example of a leading global company who has chosen to partner with Hillwood at AllianceTexas as a result of our long-term commitment and dedication to helping our customers succeed."
Located in Northlake, Texas, northeast of the interchange of I-35W and Hwy 114, Alliance Northport 1 offers one of the lowest tax structures in Dallas-Fort Worth and frontage on I-35W, according to Hillwood. Its close proximity to Fort Worth Alliance Airport, BNSF Railway's Alliance Intermodal Facility, the FedEx Express Southwest Regional Hub and the UPS and FedEx Ground Hubs make it a very advantageous location for Schluter-Systems' logistics operations.
"As we expand to meet the demands of our customers, AllianceTexas is the ideal location for our new Texas facility," said Marco Ludwig, CEO of Schluter-Systems. "The Hillwood team had space immediately available at AllianceTexas to meet our current operational needs, with the capability to provide additional support and resources for future growth opportunities. With direct access to established transportation and logistics options and a robust workforce, AllianceTexas provides us with everything we need to succeed."