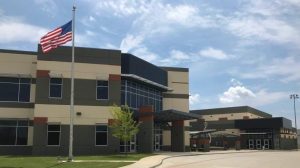 iSchool of Lewisville was recently awarded $50,000 in grant funds for engineering, computer science and cybersecurity initiatives.
The Texas Education Agency, in partnership with the University of Texas in Austin, awarded $50,000 to iSchool of Lewisville and 13 other high-performing STEM (Science Technology, Engineering & Math) schools throughout the state for the Lone Star STEM Academy Pilot Grant, according to a news release from iSchool of Lewisville.
"The goal is to up-skill our students," said Michael Hayes, the iSchool of Lewisville engineering teacher who applied for the grant. "Engineering, computer science, and cybersecurity are specified as subjects that the state of Texas is focusing on. This is about giving students the opportunity to get high-value jobs that are in high demand."
The dual-campus school located within the Waters Ridge business park in Lewisville will receive $22,000 toward dual credit engineering. These funds will be spent on training and curriculum as part of a partnership with UT Austin where students can dual enroll at the high school and university to earn college credits for engineering I & II. Some of the money will also be used for engineering supplies and equipment on campus, according to the news release.
A cybersecurity lab will be constructed with $8,000 of the grant money so the students can experience hands-on training with routers, switchers, firewalls and other computer hardware used in the industry. The grant also provides for an additional $30,000 over the next two years for continued development classes for cybersecurity and programming.
The remaining $20,000 from the grant will go toward teacher training and certification in computer science, engineering and cybersecurity.
"These are the three major STEM pathways that the TEA has identified as its next set of endorsements and we are proud to have been chosen as one of the schools to advance this initiative," Hayes said.
According to the TEA, the Lone Star STEM grants will help create, implement and scale entrepreneurial, evidence-based, field-initiated innovations that will measurably improve the educational outcomes of high-need students in STEM overall with an emphasis on computer science and cybersecurity, propelling students along pathways to postsecondary credentials and in-demand STEM careers.
"The overall goal here is to prepare students to be able to enter the workforce in one of these fields or give them a head start on their studies at university," Hayes said. "We feel that the 14 schools selected to receive this grant will be the prototype for what the TEA recognizes as high-quality STEM and early college education across the state."