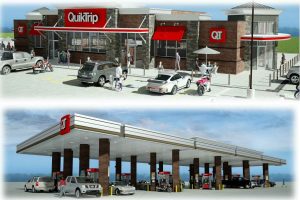 Work has begun on the future QuikTrip gas station at the corner of FM 2499 and Waketon Road.
The project was originally approved by Flower Mound Town Council in 2016, and then the revised site plan was approved last year. The revised plan features a 4,955-square-feet convenience store – reduced from the original 5,858-square-feet – and only eight fuel pumps, down from 10 in the original, plus 41 parking spaces on 1.8 acres.
Molly Fox, director of communications for the town, said the QT is expected to be completed in spring or summer 2020.
The QT project will be part of the 19-acre Hawks Hill development, which will also include nine office buildings totaling 93,000-square-feet.