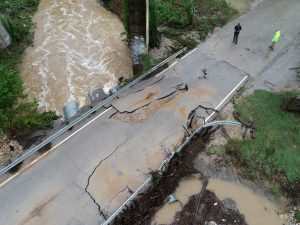 After more than a year, the Old Alton Road bridge has been repaired and the road was reopened on Saturday morning.
"We finally got all the safety issues addressed and the contractors are pretty well finished up. We think the school buses will run on Monday," said Precinct 4 Commissioner Dianne Edmondson.
Edmondson said there may be some intermittent lane closures in the next couple of weeks for lane striping.
A section of Old Alton Road from Hilltop Road to Copper Canyon Road — located in unincorporated Denton County between Denton and Lantana — had been closed since Sept. 21, 2018 because of heavy rain. Rainwater caused debris to clog and crush corrugated metal pipes along the road, which allowed water to flow across the road and damage it.
Denton County's Engineering Department worked with the U.S. Army Corps of Engineers and the Kansas City Southern railway to obtain the necessary easements and permissions to replace the pipes with two 8 x 10 box culverts.
The repairs will improve the flow and decrease the likelihood for major damage from storm-related debris, which should improve the life span for Old Alton Road, officials said.
"We thank area residents for their patience as we dealt with weather issues and delays while these repairs were being made," said Edmondson.