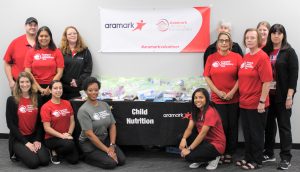 The Lewisville ISD child nutrition department, managed by Aramark, has provided a $4,000 grant to local nonprofit Journey to Dream, which operates Kyle's Place, a local transitional living program for homeless and foster youth.
The grant is funded by the Alliance for Strong Families and Communities in partnership with Aramark, according to a news release from the LISD child nutrition department, and it was established as part of Aramark's larger ABC Day, a day of community volunteerism recognized annually in September.
LISD child nutrition employees partnered with Kyle's Place, which is currently at capacity with 14 residents, all of whom are LISD students. Kyle's Place residents worked alongside LISD child nutrition team members to prepare and bake their own pizzas, take part in a nutrition education discussion and healthy dessert demonstration. Residents also had the opportunity to tour the district food truck, StrEATz & bEATz.
"We welcome the ability to continue to fill our teens life 'toolboxes' with information on how to eat healthy and be the best 'you' they can be," said Journey to Dream Chief Executive Officer Nesa Grider. "Our partnership with LISD Child Nutrition provides a structured and informative, yet fun way to infuse helpful information about healthy life choices."
A portion of the grant funds were used to fund toiletry bags for incoming Kyle's Place residents, as well as fund the department's ABC Day activities, according to the news release. Remaining funds will be used throughout the school year to provide hot meals to JTD members, particularly during their monthly meetings.
LISD child nutrition anticipates this grant will be the beginning of a long-term partnership.
"Our goal was to establish a relationship with the kids, help them with life skills, and give them information on how we can ensure their nutrition needs are met every day at school," said child nutrition manager Dorothy Cadet. "As our partnership with JTD and Kyle's Place progresses, we look forward to impacting the lives of more students, both during and after school hours."