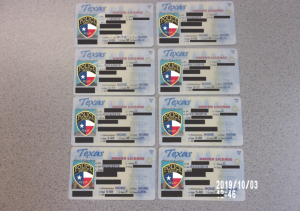 The number of fake driver's licenses in Argyle is on the rise, according to the Argyle Police Department.
The department shared a photo of eight fake IDs on social media Thursday, saying they were only "a few that have been confiscated this week." The department is encouraging local parents to talk to their children about the potential legal ramifications of being caught trying to use a fake ID.
"Being in possession of one of these fake licenses could have your child arrested on felony or misdemeanor charges," the department wrote in the social media post.
The Argyle ISD Police Department said that it is working on the case with APD because some AISD students are involved, and the district police department said these fake driver's licenses "are not your average fake ID," and they should be turned over to police as soon as possible.