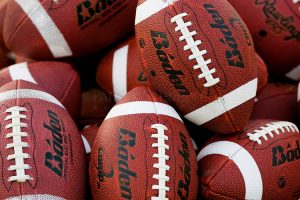 Marcus 60, Irving 0
Ty'son Edwards rushed for 228 yards and 3 touchdowns and caught a touchdown pass on Friday night, as Marcus won big against Irving.
Edwards scored on a 13-yard pass and 5-yard run and Jacob Scott drilled a 42-yard field goal, as the Marauders took an 18-0 lead into the second quarter.
Edwards opened up the second quarter with a 20-yard run, while Ethan Barr scored on a 4-yard run and J. Michael Sturdivant scored on an 11-yard pass from Garrett Nussmeier, and Marcus led 39-0 at the half.
Edwards scored on a 69-yard run in the third quarter and Bryson Barber scored on a 68-yard fumble return.
Jack Saunders scored on a 1-yard run in the fourth quarter to close out the game for Marcus.
The Marauders will play next at 7 p.m. on Oct. 4 when they host Flower Mound.
Liberty Christian 58, China Spring 56
The Warriors picked up their first win of the season in a barn burner with China Spring on Friday night.
Kellen Moran scored on a 35-yard pass from Nathan Greek in first quarter to make it 8-7 China Spring at the end of one.
The Warriors scored 21 unanswered points to start the second on a 40-yard pass from Greek to Jalen McCoslin, a 4-yard run from Tye Strickland and a 60-yard pass from Greek to Bryson Werntz.
Liberty led 28-22 at halftime.
In the third quarter, the Warriors traded scores with China Spring as Greek hit Moran and McCoslin on 49 and 20-yard touchdown passes respectively.
Collin Gamble scored on a 16-yard pass from Greek to start the fourth quarter, while kicker David Kvistad nailed a 27-yard field goal and Truett Walker broke a 50-yard run to finish out the victory.
Greek passed for 396 yards and six touchdowns in the game.
Liberty Christian will play next at 7 p.m. on Oct. 4 at Austin Hyde Park Christian.
Flower Mound 34, Lewisville 30
The Jags rallied late on Friday night to defeat Lewisville by a score of 34-30.
Pierce Hudgens scored on a 4-yard run and Reece Carter caught a 74-yard pass from Blake Short, but Flower Mound trailed 14-13 at the end of one.
Carson Winters caught a 13-yard pass from Parker Clark in the second, and the Jags trailed 23-20 at halftime.
Following a scoreless third quarter, Short connected on a 14-yard pass from Reid Touchstone and Pierce Hudgens scored on a 2-yard run to make it 34-30.
Short passed for 380 yards and 2 touchdowns.
Flower Mound will play next at 7 p.m. on Oct. 4 at Irving.
Down 3. 15 secs to go. TD to win it.@pierce_hudgens on a direct snap:
SNAP. HOLE. DIVE. GAME WINNER!!!

Final: Flower Mound 34 Lewisville 30@TheOldCoach | @JagFootball pic.twitter.com/29ml3rgn0t

— Nick Walters (@nickwalt) September 28, 2019
Argyle 63, Texarkana Liberty-Eylau 42
Bo Hogeboom passed for 376 yards and 6 touchdowns on Friday night as Argyle defeated Liberty-Eylau by 21 points.
The Eagles trailed 14-0 early in the first quarter, but Hogeboom hit Jasper Lott on a 15-yard touchdown pass to the cut the deficit to seven heading into the second quarter.
Argyle tied it up on a 19-yard touchdown pass from Hogeboom to Alex Gonzalez, but Liberty-Eylau regained the lead to make it 21-14.
Hogeboom then connected with Cole Kirkpatrick on an 80-yard pass to tie it up once again, but Liberty-Eylau went down and scored again.
Tito Byce scored on a 4-yard run to tie it at 28, and then Gonzalez gave the Eagles their first lead of the game on a 23-yard touchdown pass from Hogeboom.
Luke Farris broke a 38-yard run to extend Argyle's lead to 14 points, and Cade Merka caught a 36-yard pass from Hogeboom to make it 49-28 Argyle.
Kirkpatrick scored on a 38-yard pass from Hogeboom, and following two Eylau scores, Byce scored on a 7-yard run to finish things out.
Argyle will next play at 7 p.m. on Oct. 4 at Sanger.
Guyer 49, Keller Central 10
The Wildcats continued their winning ways on Thursday night, defeating Keller Central by a score of 49-10 in their district opener.
Eli Stowers hit Cam Thrailkill on a 19-yard pass in the first quarter, and in the second quarter, Kaedric Cobbs rushed for a 24-yard touchdown.
Cobbs also scored a two-point conversion for the Wildcats, and Guyer led 15-3 at the half.
The two teams traded touchdowns in the third, with Guyer scoring when Stowers broke a 75-yard run to make it 23-10 at the end of three.
In the fourth quarter, Guyer pulled away, as Stowers hit Seth Meador on a 28-yard touchdown pass and connected with Travis Romar (23, 28) on two.
Grant O'Bara broke a 71-yard run in to close out the scoring for the Wildcats.
Stowers threw four touchdown passes in the game and Cobbs rushed for 160 yards and a touchdown.
Guyer will next play at 7 p.m. on Oct. 4  when it hosts Southlake Carroll.