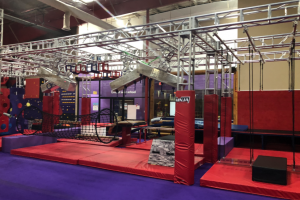 The area's first world-class Ninja Warrior Training Center for all experience levels is now open at Win Kids in Flower Mound.
Win Kids, located at 3000 Waketon Road in Flower Mound, says the new training center will be fun and engaging for kids 3 and up to play in — while developing their strength, coordination and agility — as well as a good place for active adult athletes to train to become a real American Ninja Warrior.
The new center features two 80-foot long Ninja Lanes packed with challenges like Ziplines, Floating Bridges, Salmon Ladder, Cannonball Alley, Cargo net Swing, Spider Wall, Cliff Hanger, launch trampolines and more, according to a Win Kids news release. The state-of-the-art center is youth-centered and full-padded for safety with several levels and thicknesses of the best safety padding available anywhere. The Ninja Training Center also includes a full-size safety landing pit, hotbed Trampoline, triple height Warped Wall and a custom-built Rock Wall to bring the challenge to all ages.
For more information or to schedule a free class, click here or call 972-355-9988.