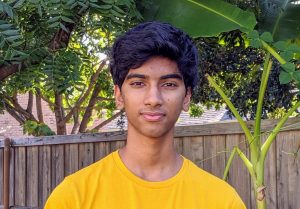 Hasith Vattiku, 15, of Flower Mound, has been named one of 16 finalists in the Breakthrough Junior Challenge, a global science competition.
Hasith was selected in the Popular Vote competition from thousands of registrants from around the world who submitted engaging and imaginative videos to demonstrate difficult scientific concepts and theories in the physical or life sciences, according to a news release. Below is Hasith's video.
Hasith was inspired to submit a video to the Breakthrough Junior Challenge after he read Stephen Hawking's "A Brief History of Time." With an interest in science and love for animation and video-making, Hasith enjoys putting a creative and silly aspect to his videos to help others learn. Hasith also researched radiation further by reaching out to physicists on Reddit and having conversations that helped contribute to his knowledge that he is proud to share with the world.
The winner of the Breakthrough Junior Challenge will be awarded a $250,000 college scholarship. The science teacher who inspired the winning student will win a $50,000 prize. The winner's school will also receive a state-of-the-art science lab valued at $100,000. The winner will be announced at the annual Breakthrough Prize ceremony in Silicon Valley on Nov. 3.