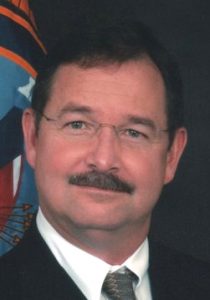 By Derrick Watson, Double Oak Police Chief
Advance warning … this is an editorial … a written piece sprinkled with "facts" obtained from the FBI Uniform Crime Report, diligent local media sources (all properly credited … of course) and personal opinion, based upon 29+ years of law enforcement experience.
Some bona fides: I'm a graduate from the University of Montana with a B.A. in History; a retired U.S. Army Lieutenant /Captain; a 1990-1994 member of the Dallas Police Department, where I served: in patrol; on an FBI violent crime task force; and, as a detective on a street crime squad; a 1994-2009 member of the Coppell Police Department, where I held almost every position from patrol officer to captain.
Coppell was where I had the opportunity to become a criminal personality profiler, attend the F.B.I National Academy, serve as a tactical team leader, patrol/jail /communications commander and learned to make those command level decisions about how we expend our communities' precious resources on this thing called criminal justice.
In Coppell, I participated in answering– what is the direction of our department and do our actions actually make the community we serve better?
From 2009 until the present, I've been the humble Chief of the Double Oak Police Department.  I share my resume not to brag (and in 2019 I'm positive there's a keyboard warrior ready and dying to criticize it on a social media website), but to lay out the background and experience from which I write.
Why even write this article?  A week ago I was asked a seemingly simple question by two of our residents. How can I stay safe from violent crime?  Trying to answer that question quickly became an internal dialogue about the state of criminal justice and policing in the United States in the 21st century.  Absolutely, I'll give some advice on staying safe from violent crime (property crime has been addressed ad nauseam in this column, along with the countless ways people try to defraud other people).  What I really want to do is talk about the "truth" as a veteran police officer … and a request that you, dear reader, think about what you want your community to be in the future.
Double Oak, Bartonville, Copper Canyon, Flower Mound and Lantana are all overwhelmingly safe places to live.  That does not mean that there is a magical pretend bubble that keeps law breakers away from our communities.  That does not mean that any one of us is immune to the effects of crime.  Almost all of us leave our magic bubble to travel to Dallas, Ft. Worth or Denton to work, shop, seek entertainment, take care of legal matters, or visit a physician.
A large number of our residents hold positions of responsibility as educators, health care workers, corporate leaders, members of the legal profession, law enforcement officers and last but not least, elected officials.  Each and every one of us has an influence on the direction of criminal justice through what we teach our children, how we treat other people and where we decide to invest community resources.
I love being a police officer.  It is an honor to wear the blue uniform, pin on a badge and go to work believing that your actions have a positive contribution to society's well-being.
I love working beside people dedicated to selfless-service.  The job is fascinating, varied, challenging and rewarding.  It is a true privilege to serve the community of Double Oak.
TRUTH:  My profession, law enforcement, is in terrible trouble.  Sometimes we are our own worst enemies (plenty of officer-involved video on that subject).  Sometimes, a lot of times, leaders in my position fail to lead and don't ensure that officers are properly trained, or supervised, or disciplined when needed.  Many times, my leadership peers, won't defend and explain their officer's actions … or melt under the glare of public criticism; or vainly try to appease special interests or local politicians.
The job is not easy. Uses of force never have been– and never will be– pretty; decisions are tough and the criticism is plentiful.  Applicants for police jobs are becoming nonexistent, the job is more complicated than ever and far fewer persons are applying.
The trope that, as soon as the economy goes bad, the police won't have a problem recruiting is an outdated misconception.  The economy is terrible in many United States cities.  There aren't any agencies, that I'm aware of, swamped with applicants.
TRUTH:  There is a tremendous officer shortage and it is not getting better.  Pay and benefits are part of the answer.  A larger part of the equation has to be working environment, command staff professionalism, and community support.  The constant politicization of law enforcement has to stop.  Overwhelmingly, in my experience, cops do their very best to deliver law enforcement services to their citizens, regardless of media and politician narratives about a profession they know little to nothing about.
TRUTH:  In 2019, there is the expectation that a responding peace officer can "de-escalate" any given volatile situation: through using the skills of a veteran crisis negotiator; disarm and or grapple with suspects, as if they are highly-trained mixed martial artists; within seconds correctly assess and act during critical incidents; and, never yield to the human temptation of self-preservation.
Officers are supposed to: save an overdosing teen through the use of Narcan; successfully provide CPR to a heart attack victim; drive police vehicles like they were personally-trained by Mario Andretti and be able to transition from a felony traffic stop to "officer friendly," without ever losing control of their emotions.
Societal standards are grossly unrealistic.  Actions and decisions made by officers will be torn apart by attorneys and "Monday morning quarterbacks" who will spend hours, weeks and months tearing apart and critiquing; not for the greater good, but always with an agenda.  Rarely, rarely, do you hear or read any pundits pointing out that the suspect(s) are responsible for their own actions.
Watch the news … blue (police) and blood lead.  It is an unusual reporter who will do an exposé on a drug hotel or criminal gang or criticize criminal behavior.  It is extremely common, or maybe even standard operating procedure, to lead a news story with a criticism of law enforcement.  If only we could get those dang cops in line, the world would be a better place.
TRUTH:  The world is a dangerous place.  Some places are more dangerous than others.  Time for some statistics courtesy of the FBI Uniform Crime Report circa 2017, the last complete year of data currently available.
I will point out that the FBI cautions: "Data users should not rank locales, because there are many factors that cause the nature and type of crime to vary from place to place. UCR statistics include only jurisdictional population figures along with reported crime, clearance, or arrest data." https://ucr.fbi.gov/ucr-statistics-their-proper-use.   Please, use caution when assessing the relative safety of cities.
| | | | | |
| --- | --- | --- | --- | --- |
| City | Population | Murder | Robbery | Agg. Asslt. |
| Dallas | 1,338,551 | 167 | 4,377 | 4,994 |
| | | 12.5 per 100 k | 326 per 100 k | 373 per 100 k |
| Ft. Worth | 873,069 | 70 | 1,286 | 2,966 |
| | | 8 per 100 k | 147 per 100 k | 365 per 100 k |
| Denton | 136,836 | 1 | 94 | 201 |
| | | .7 per 100 k | 107 per 100 k | 147 per 100 k |
So, if you were looking to spend your entertainment dollar in 2017– and were also concerned about your personal safety– maybe you would consider that you were 17.8-times more likely to become a victim of murder in Dallas than Denton.  You were 3-times more likely to become a victim of robbery in Dallas than Denton. And, finally you were 2.5-times more likely to become a victim of aggravated assault (shot, stabbed or beaten, with concurrent serious bodily injury) in Dallas than Denton.
Early in my career, while working a task force in Dallas, a wise sergeant explained that most police stats can be manipulated to make this or that commander look good or bad.  We were having that conversation after a string of fast food restaurant robberies were probably counted as a single criminal episode, rather than four separate robberies, as they all happened on the same night and were committed by the same crew of suspects.
Over the years I would hear similar conversations about burglaries of a residence (Hey! Detective. We know the bad guys entered the garage, stole something, and then left. Let's count that as a misdemeanor theft of property, rather than a burglary of a habitation and keep our stats looking good … you know … because theft-of-property is a lesser included offense to felony burglary of a habitation).
The one stat that can't be hidden, the one you can bet the farm on, is that the commanders literally have a hard time hiding statistics on the dead.
Those 167 murders also had 4,994 reported aggravated assaults.  Aggravated assaults, those aren't fist fights or open hand slaps, or hair pulling … those are overwhelmingly caused by a suspect inserting a bullet or knife blade into an unwilling participant … or bashing someone in the head with a blunt instrument … you get the point–  4,994 or 13.7 aggravated assaults-a-day, combined with an equal number of robberies per day.  Those are reported offenses. Ask a cop, they'll tell you a significant percentage of crime is never reported for a wide variety of reasons.
Item of note … as of August 2019 Dallas is sitting at 135 homicide victims; well on its way to exceeding the 2017 murder rate.
Denton has one murder this year.  What … what could be the difference?
TRUTH:  Criticize, blame, defund, underpay, understaff and demoralize your police department and you get to enjoy the fruits of your efforts.  Experienced officers will depart, usually to other departments, sometimes to retirement.  Recruitment will become problematic.  Attack enough and you'll have a department where the mathematical reality becomes that you can't train officers fast enough to replace those leaving the profession.
TRUTH:  Appoint all the hand-wringing round-table commissions you so desire.  Manipulate crime stats all you want (although, again, hiding bodies is almost impossible).  Tell people to just STOP!  Waste legislative time outlawing "vaping," when we can't even get kids to stop using heroin, oxy and weed.  Blame inanimate objects.  Blame schools. Blame broken families. Blame the cops.  None of that works when it comes to combating violent crime.  Violent criminals don't care about your opinion.
In 1990, Dallas was about to crest 400 murders.  Aggravated assaults were through the roof.  Robberies were out of control.  What did we do?  We took the best cops we could find, removed them from patrol, gave them permission to go after those bringing misery to our community proactively; paired with judges to place high bonds on known violent offenders; assigned our best prosecutors to, you know, prosecute; actively sought to knock-out drug houses; and, aggressively pursued placing bad guys in prison for as many years as we could obtain.  We also partnered with the FBI, the U.S. Marshals Office and the Texas Rangers to find, apprehend and prosecute violent criminals.  You know what?  It worked.
TRUTH:  You want to stop violent crime?  Hire, train and retain professional law enforcement officers.  Once hired and trained, place those cops on the street and let them be police officers.  Arrest known offenders.  Arrest, it's the biggest tool in the tool box.
Coffee with cops is really cool.  So is reading stories to school children, teaching D.A.R.E., crime prevention classes, home security checks, crime prevention cards, neat dance videos on Facebook, and installing car seats for new parents … all awesome.  None of those things is awesome until violent crime is under control.
TRUTH:  Law enforcement is a team event.  Blue-suiters are just the front line of the criminal justice system.  Criminal investigators need to be trained, rewarded and recognized for the professionals that they are– a good homicide detective takes years to develop.  Once they achieve that goal, they need to stay in their positions, not be rotated back to patrol, so that they remember who they are (yeah I get the Marine once a rifleman always a rifleman mentality … I also came from an organization, the Army, that the mission was always prioritized first … blue suit duty for murder cops, or other investigators, is ignoring the mission … again in my opinion).
Alongside good investigators, we need a supportive Sheriff's Department and District Attorney's Office (and they are both outstanding, kudos to the Denton County Commissioners Court for approving two additional child abuse investigators).
If you're a County Commissioner, or a diligent voter, please recognize that our county Sheriff's Office also needs adequate pay to hire and retain detention officers, dispatchers, and jail nurses (I thought police departments were having a hard time recruiting– I would not want to be running a jail right now).  Our District Attorney's Office needs to be able to provide competitive pay and benefits and have enough personnel to support a rapidly-growing county.  We also need courtrooms, judges, and infrastructure and administrative personnel to make the whole machine work right.
Perhaps, most important, we as a people need to have the willpower to hold individual violent criminals accountable for their actions.  It's not the fault of the POLICE OFFICER, the TEACHER, and lack of love from MOMMY or DADDY, or the criminal's multi-drug ADDICTION challenge.  The person who chooses to commit violent crime is the person responsible.
How do you stay safe?  Be kind to other people.  Avoid public and personal conflict.  Understand that the person most likely to hurt you physically is most likely a person you know.  Even worse, there is a 25-percent chance the person who injures you is the person who claims to "love you."  Don't become intoxicated on alcohol or narcotics.  Stay away from dangerous locations (see the above statistics – remember to be careful with your rank ordering!).  Don't trust strangers, even if you are an adult.
My advice, use my alma mater as a warning, save all the money you want, but  understand that if we don't fund the criminal justice system, we won't have to worry about our taxes going up each year.
Please, please, stop using law enforcement as a political punching bag for all societal ills.  We are literally, as a nation, killing an entire profession.  Literally.
Thank you for the opportunity to serve.
Chief Watson