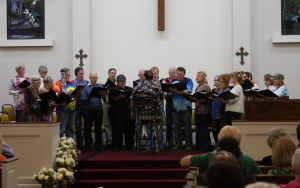 The Voices of Flower Mound local chorus is inviting the community to its fall concert next month.
The Serious Music Mash-Up concert will be held at 7 p.m. Oct. 12 at Lamb of God Lutheran Church, 1401 Cross Timbers Road in Flower Mound. The concert will feature arrangements of choral and orchestral favorites, including "Amazing Grace," "Danny Boy" and "Lacrimosa" from Mozart's Requiem.
Advance tickets — which are available on the VOFM website or from any choir member — are $12 for adults and $8 for seniors and students. Tickets at the door will be $15 for adults and $10 for seniors and students.