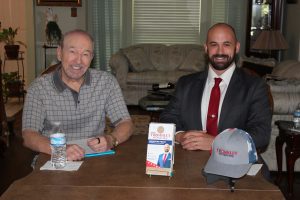 There will be a lot of candidates running for office in the March 3, 2020 primary election. One of those will be Republican James Trombley, a candidate for Texas State Representative in District 64. The Marine Corps veteran is running against 2-term incumbent Lynn Stuckey. For those who may not be familiar with the role of a Texas State Rep., Mr. Trombley sat for an interview to explain why he's running and what he believes his role in the legislature will be. He also answers questions on the most pressing issues currently facing the Lone Star State. Below is a biography sent by the married father of two who resides with his family in Denton County. His campaign website is: www.trombleyfortexas.com Also check out: www.facebook.com/TrombleyForTexas
"James Trombley is a Marine Corps veteran, financial advisor, husband, father, and Conservative Republican running for State Representative in District 64. He believes in limited government, low taxes, protecting the unborn, and promoting economic liberty.
The son of a working-class family, James' father was a machinist and his mother cared for him and his sister growing up. A fierce competitor, James was a three-sport athlete in high school. He held a strong belief in service and was patriotic even from an early age. It was this patriotism and desire to serve that led to him making the most important decision of his life at a young age.
"James was a senior in high school during the terrorist attacks of September 11th, 2001. He knew immediately that he wanted to join the fight against those who attacked his fellow Americans.  He was so determined to serve, he petitioned to graduate early so he could enlist in the armed services sooner. His endeavor was met with pushback from the high school, so he took to city council to plead his case. With the city and the community behind him, he again petitioned, and this time gained permission to graduate early. In October 2001, he enlisted in the Marine Corps Delayed Entry Program. After graduating that January, he left for boot camp in March. In late 2002, James completed his training as a Reconnaissance Marine. It was also during this time that James met the love of his life, Sara, who legally immigrated to the U.S. with her single mother and 7 siblings when she was a child.
"In 2003, Trombley deployed with the 1st Recon Marines, becoming one of the first boots on the ground in the Invasion of Iraq. His Battalion acted as the tip of the spear, charging to Baghdad in Humvees and light vehicles. After completing major combat operations and toppling the government of Saddam Hussein, he returned home and married Sara. In 2004, James deployed again to Iraq and fought in the battle of Fallujah One, which is regarded as one of the most intense battles of the war on terror. He deployed a third time to Iraq, this time as a recon team leader, from 2005-2006. In 2006, James was honorably discharged from the Marine Corps after receiving numerous commendations. He then settled his family in Texas.
"For the next decade, James supported diplomatic and intelligence missions throughout the Middle East, including providing security to Presidential Medal of Freedom recipient Ambassador Ryan Crocker. In 2017, James began a new career as a financial adviser with Edward Jones, growing his business by going door to door and speaking with his community about how he could assist them. He is also an avid community activist, working with veterans' groups and local organizations throughout North Texas. He lives in Denton County with his wife Sara, and their two boys, Kyle and Ethan."