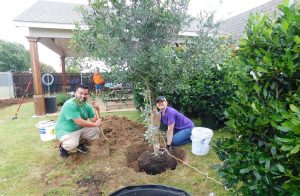 Kyle's Place will host an open house this month, soon after receiving comprehensive donated landscaping services.
Kyle's Place, a transitional living program in Lewisville for homeless youth working toward independence, is inviting the community to stop by from 1-3 p.m. Sept. 29 for a tour of the facility and to learn more about its mission.
G&A McAdams completed a landscaping transformation this summer at Kyle's Place, 1960 Archer Ave. in Lewisville. The landscaping company donated more than 420 man-hours, $7,500 in supplies and coordinated donations from other companies, including SW Nursery, Arentco Rentals, Fencescape, Hunter Industries and American LS. Before, the yard at Kyle's Place was just some grass and a fence, but it has a new landscape, front and back. The companies planted lots of plants, fixed the irrigation system, corrected the drainage, put in fresh mulch around the garden and more.
"We are so very thankful for the landscaping that we were gifted, it is like sitting in a lush national park," said Nesa Grider, CEO of Journey to Dream, which runs Kyle's Place.
Ron Stewart, senior landscape architect for G&A McAdams, said he is a big fan of the good that is being done at Kyle's Place, and he was happy to do something for them.
"Hopefully our example will encourage other corporations, churches and individuals to come along and support what they're doing," Stewart said.