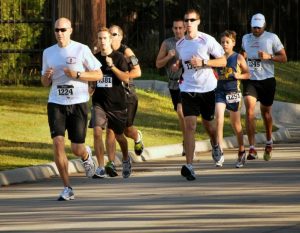 Lantana's annual charity race is celebrating a milestone this year.
The Lantana Community Association's 10th annual Run Lantana 5K and 10K is scheduled for the morning of Saturday, Sept. 21 at Blanton Elementary School.
Presented by Blue Fuse Realty Group, the race beneficiary of this year's run is Argyle-based Ranch Hands Rescue Counseling Center & Animal Sanctuary.
The non-profit organization rescues and rehabilitates abused and neglected farm animals, and integrates them into their Equine and Animal-Assisted Therapy Counseling programs that serve victims of abuse.
Run Lantana has raised more than $70,000 for local charities since its inception.
Organizers are lining up sponsors and volunteers to work the race. Contact Ashtin Slovak via email at [email protected] or call 940-728-1660 if you can help.
For more information or to register, visit www.runlantana.com.