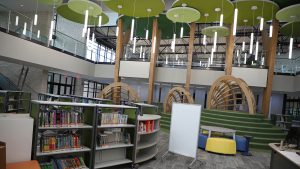 Two new elementary schools in Harvest are eagerly anticipating their first school day of school.
The Harvest community in the Northlake area is split in half, with the west part of it being in the Northwest ISD jurisdiction and the east side in Argyle ISD. Both districts are opening brand new elementary schools in Harvest.
"We're just so excited," said Amy Howell, principal of the new NISD Lance Thompson Elementary School. "The kids and parents are excited, the teachers are ready to go, we're counting down the minutes until we get started."
Lance Thompson's campus will make use of the district's new elementary prototype design, a process that involved students, educators and a design team. The two-story campus will feature collaboration spaces spread throughout grade-level halls of the school, and a Makerspace area incorporated into the learning commons/library.
"The teachers have been working all summer to incorporate the entire campus for use," Howell said. "You'll see kids all over school learning different things in different ways, alone and in groups. They'll have their choice in how they're learning."
Argyle's new school, Argyle West Elementary, is the district's second elementary school. Principal Renee Funderburg told The Argyle Insider that the new school will be have its own unique identity and community.
"It's been fun getting to blend our Hilltop staff and Intermediate staff and hiring new people … to create a whole new school community," Funderburg said.