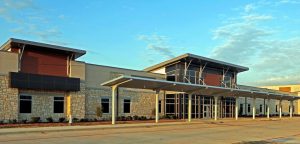 The upcoming 2019-20 academic year will certainly be an exciting one for the students, teachers and staff at Founders Classical Academy (FCA) of Flower Mound.
The school is moving from its current location– at 500 Parker Square, where it opened in August 2015 for grades K-5– and expanded grades yearly until it had outgrown that facility.
FCA Flower Mound is a public charter school, which means tuition is free and enrollment is determined by a lottery system until all the seats are filled.
The ResponsiveEd charter school will open the doors of its new campus at the corner of Cross Timbers Road (FM 1171) and Flower Mound Road this month. The groundbreaking for the new facility was on Nov. 27, 2017.
"This new building will accommodate more grade levels and more students at each grade level, allowing more families to pursue a classical academic environment with a focus on moral education," said Billy Rudolph, director of Communications.
Classical schools take an approach to education characterized by a traditional liberal arts and sciences curriculum and pedagogy.
The new 42,000-square-foot facility is on 19-acres and will house Kindergarten through ninth grade next year and eventually nearly 900 students in grades K-12, after the addition of the 34,000-square-foot high school building on the same site is complete in fall 2020.
"We are excited to begin this school year and are looking forward to the completion of the high school building by the start of next school year," Headmaster Brinton Smith said. "Our families have been anticipating this move from our Parker Square location and it's finally here."
As part of a Charter School Program grant from the U.S. Department of Education– shared with 14 other charter management organizations– ResponsiveEd charter schools will benefit from the almost $15 million to be utilized over the next five years for expansion efforts, increase the enrollment of existing charter schools and create new charter schools based on a high-quality charter school model.
ResponsiveEd is a non-profit corporation that operates more than 70 tuition-free public schools throughout Texas and Arkansas.
"Our mission is to provide hope to all students and we are proud to see that vision realized on a federal level and given a better opportunity to succeed in our efforts with this additional funding," said Rudolph. "This grant will go a long way in helping us open our doors to more families who are searching for the right kind of education for their children."
Another ResponsiveEd school, iSchool of Lewisville, is a dual-campus, college-preparatory community, unifying the campuses previously known as STEM Academy of Lewisville and iSchool High Entrepreneurial Academy.
Enrollment is open for sixth through 12th graders. With expansive academic, elective, and extracurricular offerings, the open-enrollment public charter school can now serve even more middle and high schoolers throughout Lewisville and the surrounding area.
In addition to the core curriculum subjects and state-of-the-art academic electives, competitive sports such as soccer, basketball, volleyball, baseball, softball, track, cheerleading and more are offered.
Specialized courses include: culinary arts; merchandising; media arts; photography; NASA partnerships; video game design; robotics; and more.
"This is an exciting and challenging opportunity to receive a higher-level of education," said Head of School Dr. Alan Wimberley. "iSchool of Lewisville students learn the distinctions between participation as a way of life and contribution for the good of others."
For more information, to begin the enrollment process online, visit www.ischool-lewisville.com, or call 972-845-8030 to speak to an enrollment specialist or schedule a tour.
To learn more, visit www.ResponsiveEd.com.