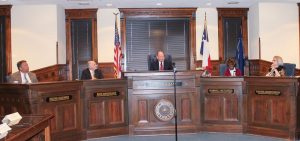 In the days and weeks to come, our thoughts and prayers go out to the victims and their families of the recent mass shootings in Gilroy, California, in Dayton, Ohio and here in El Paso, Texas. These communities are grappling with horrible tragedies in what have become all-too-common incidents across the U.S.
We at Denton County are committed to working with our legislators, community leaders and residents to help provide safe communities for all, across Denton County, Texas and the U.S. and to help find solutions to this growing threat.
One way we can make a difference locally is through community programs similar to a program known as No Place for Hate. My children attended Downing Middle School, which is one of 32 campuses in Lewisville ISD to be recognized by the Anti-Defamation League. The campaign has now reached more than 1,600 schools across the U.S.
Through this program, my children participated in anti-bullying efforts to create and sustain an inclusive culture of kindness where everyone feels valued and accepted. Kindness transcends racial, political and religious differences. Our rich American tradition is that we do not always have to agree, but we can always be kind.
We should demonstrate kindness at every level of interaction with each other. I would ask all of our civic organizations across Denton County to use this opportunity to create a more meaningful dialogue.
It goes without saying but Denton County has No Place for Hate. We stand together as one against these senseless and criminal acts of cowardice.
Two generations of Precinct One Commissioner Hugh Coleman's family lived in El Paso. He spent 30 years in a community with little history, if any, of strife. His wife's family, also from El Paso, had also lived in the community for several generations.
As an El Paso native, Hugh Coleman said he was saddened by the recent events. He recalled roaming Cielo Vista Mall from elementary school to high school. As he grew up, his parent's home, located one exit away on the border highway to the international bridge, was always unlocked because town was so safe and "that's the kind of community El Paso is."
Let us all take a moment of silence to reflect on the 34 lives lost and the more than 60 individuals injured in these incidents over the weekend.
Proposed by Denton County Judge Andy Eads and adopted by the Denton County Commissioners Court on Tuesday, Aug. 6, 2019.