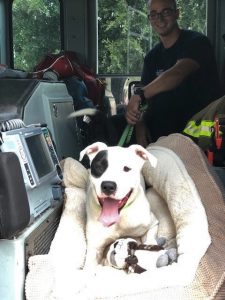 Argyle Fire Station 513 adopted a homeless dog over the weekend from the Flower Mound Animal Adoption Shelter.
On Saturday, firefighters from Station 513, located on Copper Canyon Road between Lantana and Copper Canyon, went to the local animal shelter, 3950 Justin Road, to adopt the 2-year-old male American bulldog.
They named him Blaze.
"Blaze's smile is infectiously his best feature and it is evident that this is the happiest his life has ever been," the Argyle Professional Firefighters' Association said in a Facebook post. "We hope to have many years of fun loving memories and friendships built with this pup."
In a Facebook comment on a Flower Mound Animal Services post, Argyle Fire Chief Mac Hohenberger commended the animal shelter staff and said he wants to challenge other fire stations to also adopt a pet.
"I want to help these pets find a forever home by challenging ALL fire stations to adopt a pet and make the pet part of our fire family," Hohenberger said. "In the very near future the AFD will kick off the challenge. This is a win win for all involved pets can help the crews cope with some of the tragedy they deal with. The pets get a great home where they can give their unconditional love to all."