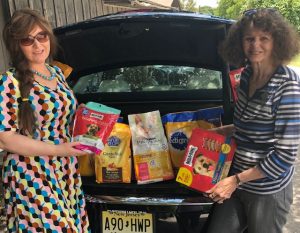 Sometimes all it takes to make lasting changes in this world is a single moment to care enough to take notice. This rings true for one Denton County Meals on Wheels employee, Kristine Herrera.
About ten years ago, she walked into the home of an older gentleman, a veteran and recipient of services, and noticed that the plate from his meal was on the floor. She asked him why, and he reluctantly shared that he had fed his meal to his dog.
Upon further examination, Kristine saw that he barely had enough food in the house to feed himself, much less a pet. She could clearly see that his love for his dog and need for his companionship meant enough to him to sacrifice his own meal.
This was the moment the Senior Paws program was born! Staff and members of the board immediately sprang into action to pull together resources to provide cat and dog food for seniors who wished to have pets. This unfunded program, supported completely by volunteers and donations, has been existence ever since.
Approximately 75 pets are provided with a supply of food each month, and this number continues to grow. The Senior Paws program not only ensures that pets are fed an appropriate diet, but that the seniors who love them are able to enjoy their meals and their pets without worry.
Generous organizations such as Humane Tomorrow of Flower Mound provide a steady stream of pet food to support the Senior Paws program.
If you wish to help, please contact Michelle McMahon, Executive Director of SPAN Inc./Meals on Wheels of Denton County at 940-382-2224 or email [email protected]. Also, support our next fundraiser "Polka for Paws" at Dan's Silverleaf in Denton on August 25th!
Submitted by SPAN Inc./Meals on Wheels of Denton County.