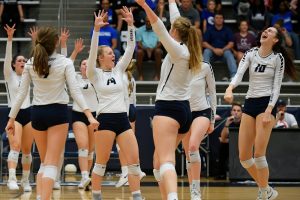 Volleyball season begins soon and the schools of southern Denton County are preparing to make their marks once again.
All six area volleyball programs made the playoffs last season. Expectations are high once again for 2019.
The Flower Mound High School volleyball team won a 6A State Championship in 2018, going 42-7 overall for the season.
Coach Jamie Siegel said she could not be more proud of her team's accomplishment and expects more of the same in 2019.
"Last season was great," Siegel said. "We are excited about this upcoming season and the young ladies are ready to work hard."
Flower Mound won its District Championship, then defeated Guyer, Mansfield, Byron Nelson, El Paso Coronado, Southlake Carroll, Northside O'Connor and Fort Bend Ridge Point en route to its first-ever State Championship in the sport of volleyball.
Siegel said it will take a similar effort as last season to make another run at a state title this year.
"It will take hard work, being humble and hungry and focusing on the little things together," Siegel said.
The Flower Mound coach said she returns four starters from last year's squad and is expecting big contributions from Kaylee Cox and Angelique Cyr (pin players), Sarah Martinez (defensive libero), Hailey Hutchings (middle blocker) and Caroline Dykes (setter).
Cox was MVP of the State Championship game in 2018.
Across town at Marcus, the Lady Marauders finished 23-18 in 2018 and claimed the fourth and final playoff spot in District 6-6A.
Coach Danielle Barker said her team achieved some major objectives along the way.
"Last season was great for us, with beating Hebron for the first time since 2011, making the playoffs and playing a great game against Byron Nelson in the first round," Barker said. "Things are looking good for next year, although we will be a new team since we graduated 10 seniors."
Barker returns three starters, including Camryn Upshaw (middle/right side), Paige Hunden (outside/right side) and Maggie Boyd (outside/right side).
The Marcus coach said she anticipates Flower Mound and Hebron being Marcus' most difficult district opponents and said her team can get back to the postseason in 2019 with a little determination.
"We just need to remain consistent and focused," Barker said. "This group is very talented and team chemistry is something we will work on a lot in preseason, since it is a new team."
For Flower Mound's TAPPS School, 2018 was a very successful season, as the Coram Deo Academy Lady Lions finished as undefeated District Champions.
Coach Kelly Stumph said she expects her team once again be among the top teams in the district.
"We are slated to return four starters who will again be impact-players for our squad," Stumph said. "This group has a tremendous amount of talent and capability to compete well.  We are looking to have a blast this season."
Coram Deo finished 23-15-1 on the season in 2018 and return Tessa Gerwig, Kacey Heitschmidt, Catherine Newton, and Grace Wintill, all of which were all-district selections last year.
To capture one of the playoff spots in 2019, Stumph said it will take a couple of things.
"We've got to focus on one match at a time, embrace individual roles/talents and trust that the results will follow suit," Stumph said. "It's vital that we stay healthy, train well and play our best volleyball at the end of September through November."
Trinity Christian-Willow Park will likely be Coram Deo's most difficult district opponent this season.
Over in Argyle, the Lady Eagles were co-district champions (with Decatur) and advanced to the regional quarterfinals last season. Coach Megan DeGroot said she is optimistic that her team will pick up right where it left off.
"Last season was not the ending anyone in any sport hopes for," DeGroot said. "However, it was an ending Argyle volleyball has not seen in some time. For the first time in five years, we had not made it to the state tournament or regional tournament. With that being said, now being in Region 1, we saw how much more competitive playoff matchups will be early on.
"We have taken that into account every day in practice, which is showing significantly in their mindset and attitudes as they come out to practice or play."
Argyle finished 28-17 for the season and returns 12 of its 15 players from last season.
DeGroot said the biggest change from last year's team and the one preparing to take the court in 2019 is mindset.
"We have seven seniors who are out to prove something and five underclassmen who are willing to do whatever it takes to fight for their teammates," DeGroot said.
Decatur and Krum should be Argyle's toughest opponents in district this season and setter Kassidy Reeves (middle blocker-Arkansas State), Mariah Hesselgesser (middle blocker-Arkansas State) and middle blocker Kiley Lavelle (undecided) are among the key returners.
Other players to watch include Allie Jones, Jessie Moore and Jada Price.
"The physicality of our team this year has all the capabilities to be where we want to be Nov. 16 (day of the State Championship)," DeGroot said. "To bring home the gold, everyone has to fully buy into the 'team over me' concept. No ifs, ands, buts or excuses."
Down the road at Liberty Christian, the Lady Warriors are coming off a 25-15 season and an undefeated District Championship.
Liberty Christian is returning three starters from last year's team and Coach Kim Grizzle said her team will need to be efficient this year to have a chance to repeat the successes of 2018.
"This season we will need to be a team that plays solid defense," Grizzle said. "We do not have a lot of size, so we will also depend on ball control and shots."
Liberty finished 8-0 in district last season, but with only three starters returning, Grizzle will need several players to step up.
"Madison Morrow was the Newcomer of the Year and should be an impact player for us," Grizzle said. "Bailey Shiftlet was second team all-district and will be our senior leader.  Ella Grace Barr was first team all-district and will be another major contributor for us.  Parker Ford, our libero, also returns. Her energy helps to fuel our team."
Liberty Christian's toughest district opponent this season will likely be Midland Christian, and Grizzle said her objective for 2019 is pretty straightforward.
"We plan to build on the success that we had last year and go deeper into the playoffs," Grizzle said.
Up in Denton, the Guyer High School volleyball team found itself in the toughest volleyball district in the state last season; and, still managed to go 9-5 and earn a spot in the postseason.
The Lady Wildcats lost to the eventual State Champion (Flower Mound) in the first round, and coach Heather Van Noy said it was a good learning experience for her team.
"We know what we are going into now and are ready for it," Van Noy said. "The girls have been working so hard since we lost in November.  They impress me every day.  I am very excited about this group that is returning to me.  We have four of my six starters, as well as the core of my varsity returning this year."
Guyer finished 30-17 last season and returning is last season's Newcomer of the Year, Maggie Walsh (outside hitter), along with All-District selections Brooke Slusser (setter), Jordyn Williams (middle) and Hailey Schneider (outside hitter), all of whom Van Noy expects to all make an impact.
Also, keep an eye on incoming freshman Kyndal Stowers, as the Lady Wildcats try to make a deeper postseason run in 2019.
"For us it is two things," Van Noy said. "It will be making sure everyone stays healthy and testing ourselves in preseason with our schedule to have a good run in the playoffs.  We have an incredible strength and conditioning coach, Rachel Hayes She has developed a program specifically for Guyer Volleyball, knowing that these girls play at a high-level year round.  I have also scheduled a pretty tough preseason that I hope will prepare us for our tough district.
"If we can stay healthy, I think that we can compete in our district and make playoffs again."