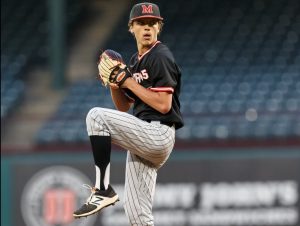 Division I athletes are considered the crème de la crème, reaching the second to last stop on the road to a professional career in sports potentially and doing so at the highest possible level.
While it is true that DII, DIII and even junior college students do go on to play professionally, Division I generally has the most promising and often times most talented players.
So what is it that differentiates a good baseball player from a great baseball player? An all-district or all-region selection from a DI recruit who will not have to pay for college because of his or her ability in sport?
"It's a couple of factors," Marcus High School baseball coach Jeff Sherman said. "Obviously, nothing is more important that natural ability, but dimensions are important as well."
Blake Mayfield (6'-2", 175) seems to be just what the doctor ordered when it comes to a prototypical pitcher's physique, with a 92 mile an hour fast ball and a hard-breaking slider that Sherman said "makes Blake who he is" on the mound.
"If he can do what he does with a fairly slender physique, imagine the possibilities if he puts on 15 or 20 pounds of muscle and has college coaches working with him," Sherman said. "The sky is the limit."
The former Marcus starting pitcher helped lead his team on deep playoff runs his sophomore and junior seasons and is headed to Texas A&M on a baseball scholarship.
Mayfield, 18, said he believes a number of factors contribute to becoming an elite level athlete, but that one basic idea trumps anything else.
"I believe that the most important quality that someone can have to succeed in a sport is to believe in themselves no matter what anyone else has to say about them," Mayfield said.
An All-State selection his junior year, Mayfield helped lead the Marauders to regional semifinals and regional finals appearances in 2017 and 2018 respectively, with nine wins each season.
Mayfield said another factor that he feels led to him to pitch for a Division I baseball powerhouse like the Aggies was to create a clear and precise vision of what he wanted to accomplish in the sport.
"My passion for baseball has always been very strong," Mayfield said. "Ever since I started playing ball when I was four, I've wanted to play in the big leagues. I still have passion for the game because I'm not there yet and that is still my goal."
With regard to how he approaches training, Mayfield said that practice makes perfect.
"Throughout the year, I throw almost every day besides the day after I pitch," Mayfield said. "I do lots of long toss and running to help stay in shape and make sure I will be ready for my next start."
The Texas A&M commitment also has some advice on what not to do, which he said is equally if not more important than how to train.
"One thing I would encourage is to not throw too much at a young age and make sure to take time off so that you still have juice in the tank when you are older," Mayfield said. "Too many people these days overuse their kid's arms. Just work on your mechanics and always take time off."
In 2019, Mayfield went 6-5 with a 1.85 ERA, but lost three games by a combined total of one earned run, while striking out 130 batters along the way.
The 130 strikeout mark established a new school record for Marcus High School.
Sherman said Mayfield's contributions to the Marauders baseball program cannot be overstated and that one of the things he believes helped the most for the former Marcus pitcher was that, throughout his career, Mayfield has always challenged himself.
"He's one of the best pitcher's to ever come through Marcus High School," Sherman said. "And from a young age, he always competed on an elite baseball team where he was never the best player or biggest or oldest. Competing like that gave him the confidence he needed as he continued to improve his game to become an elite pitcher."
Mayfield said that was actually more difficult than one might imagine for him.
"The most challenging thing that I have had overcome in baseball would definitely have to be always being the small one at a young age," Mayfield said. "I was never a big kid, and I always had trust in myself that one day I would grow and the velocity would eventually come."
It certainly did come, as he has now moved down to College Station and is about to embark upon a college career that could eventually lead to his ultimate goal of becoming a professional baseball player.
Mayfield said that as much as he looks forward to competing for A&M and continuing to work toward his dream, he will never forget his time as a Marauder.
"Marcus high school has meant more to me than anything," Mayfield said. "Playing baseball for such a great coaching staff and in front of a great community was a pleasure. There was never a day I didn't want to be out there representing Marcus High School and the players that have come before me and that will come after."