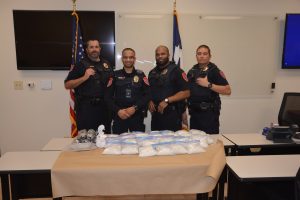 Denton police arrested two men and recovered more than 75 pounds of methamphetamine Saturday night after responding to a reported car crash on I-35.
Callers reported a crashed vehicle and a man walking on the highway on the interstate near Bonnie Brae Street around 9:15 p.m. Saturday, according to a Denton Police Department news release. Responding officers located the unoccupied wrecked vehicle, and a package of methamphetamine on the ground next to the vehicle. It later weighed in at 38.4 pounds.
Officers soon found the man who was walking along the highway, and he tried to run. During the foot chase, the suspect stopped, turned, wielded a knife and advanced on a sergeant, according to the news release. He refused to comply with the sergeant and was tased.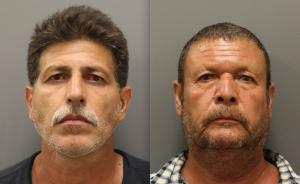 The suspect, Jose Alberto Garcia, then became compliant and was arrested on suspicion of possession of a controlled substance over 400 grams, aggravated assault of a public servant, evading arrest and obstructing the highway.
The vehicle was towed to the Denton Police Department, and officers obtained a search warrant. An additional 37.4 pounds of meth was found in the vehicle, according to police.
After the original incident with Garcia, police responded to a disturbance at an area hospital and arrested the suspect for public intoxication. Through the investigation, officers determined that the suspect, Jose Gaudalupe Barazza, had been involved in the crash with Garcia and he was charged with possession of a controlled substance over 400 grams.