A lightning strike may have caused a two-alarm house fire Wednesday night in Flower Mound.
Just after 6:30 p.m., a Flower Mound Fire Department engine responding to another call came across a two-story house on fire in the 4600 block of Wisdom Creek Court, located near Post Oak Park and St. Nicholas Episcopal Church. No one was at home at the time, and "the fire had a head start," according to Brandon Barth, a FMFD spokesman.
Heavy fire was coming from the attic, and it spread throughout the attic and caused significant damage to the lower levels of the home, Barth said. "The roof is pretty much gone."
A second alarm was called, and other firefighters from Flower Mound, Argyle, Lewisville and Grapevine responded. By 8 p.m., the fire was extinguished and crews were putting out hot spots.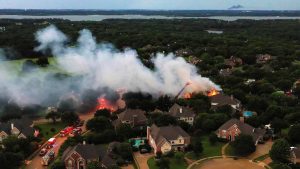 Barth said the cause of the fire will be investigated, but "preliminary indications are that it was likely caused by lightning."
FMFD has responded to several other weather-related calls Wednesday night after a powerful storm moved through the area, Barth said. Most of those calls were related to power lines and trees knocked down from the wind.