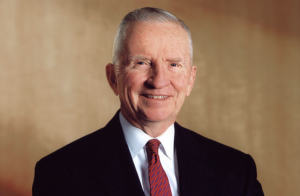 Ross Perot Sr., a billionaire and former presidential candidate, died Tuesday at his home in Dallas. He was 89.
The cause of death was leukemia, according to the Associated Press.
Perot earned his billions by creating Electronic Data Systems Corp., which helped other companies manage their computer networks. He ran for president in 1992 and 1996 as an Independent, and in 1992, he received 19% of the vote, the most by a third-party candidate in 80 years. Likely the most famous event in his career was when he financed a private commando raid in 1979 to free two EDS employees who were being held in a prison in Iran, a story that was turned into a book and a movie.
Perot and his family had a direct impact on southern Denton County with Hillwood, the development company his son, Ross Jr. founded in 1988. Hillwood is responsible for large commercial, residential and industrial developments around the country, particularly in the Alliance area of north Fort Worth and the Northlake, Argyle and Roanoke areas.
Click here for more information about Perot's life story and public memorial.