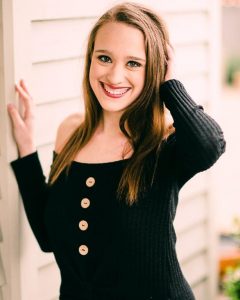 Music truly is the language of the soul for Marcus High graduate Peyton Mowl.
Mowl, 18, has a passion for the performing arts, including dance and theater that she said has been nourished at MHS.
A member of the Marquettes (the Marcus High School drill team) and numerous other organizations, Mowl has participated in the Marcus musicals her sophomore, junior and senior years.
"This year, I served as the Dance Captain for 'The Sound of Music,' and my assistant dance captain and I are finalists for Best Choreography for the Casa Mañana Betty Buckley Awards," Mowl said. "I'm also in our school's all female a capella group, Fusion. I'm a three-year member and had the privilege of singing lead vocals on Cam's 'Diane' during this year's set."
Last year, Fusion competed in the Varsity Vocal's International Championship of High School A Cappella (ICHSA) and reached the finals.
"We got to travel to New York and perform at the Alice Tully Hall at Lincoln Center," Mowl said. "Fusion took third place in the nation and we were the only all-female group. Also with Fusion, I have had the privilege of professionally recording two EPs. It was a great experience."
Mowl's access to the arts is one of the things she loves the most about attending Marcus High School.
"On top of having some really caring teachers and amazing coaches, I have had the opportunity to sing, dance and act," Mowl said. "I had no idea how much I would enjoy the performing arts. The memories and friendships that I've made along the way while participating in choir, drill team, Fusion and theater are very precious to me. These experiences have helped shape me into who I am today and I will carry them as I continue to pursue a career in the arts."
The Flower Mound teen said that outside of school, she is involved with her youth group at Valley Creek Church She said her faith is very important to her and last year it helped her and her family get through the worst day of their lives.
Mowl lost her younger brother, Jacob, last summer, shortly after he received a heart transplant.
Jacob was born with a condition called Hypoplastic Left Heart Syndrome, or HLHS, which means that only half of his heart was fully formed and functioning properly.
"During his lifetime, Jacob had five open-heart surgeries and spent over 600 days in the hospital," Mowl said. "He lived an incredibly full life in just 15 years. He was my best friend and a true light to everyone he met. My mom likes to say that he never knew a stranger and that could not be more true. I am who I am today because my family chose to come out of that tragedy stronger; and I am more firmly rooted in my faith. I know that's exactly what Jacob would've wanted us to do."
Mowl carries a 3.8 grade point average at Marcus High School and is headed to Lipscomb University in the fall, where she plans to study Music Industry, with a minor in Commercial Music Production.
Mowl's Favorites
Favorite Subject: English
Person Who Most Inspires You: My brother Jacob
Favorite Food: Chicken Nuggets
Favorite Movie: Safe Haven
Favorite TV Show: Gilmore Girls
Book Currently Reading or Last Book Read: Scythe by Neal Shusterman
Favorite Musical Group or Performer: Adele